Dedication of Royal Canadian Air Force Memorial
Memorial Green, Roade
Sunday 9th November 2014
Roade remembers...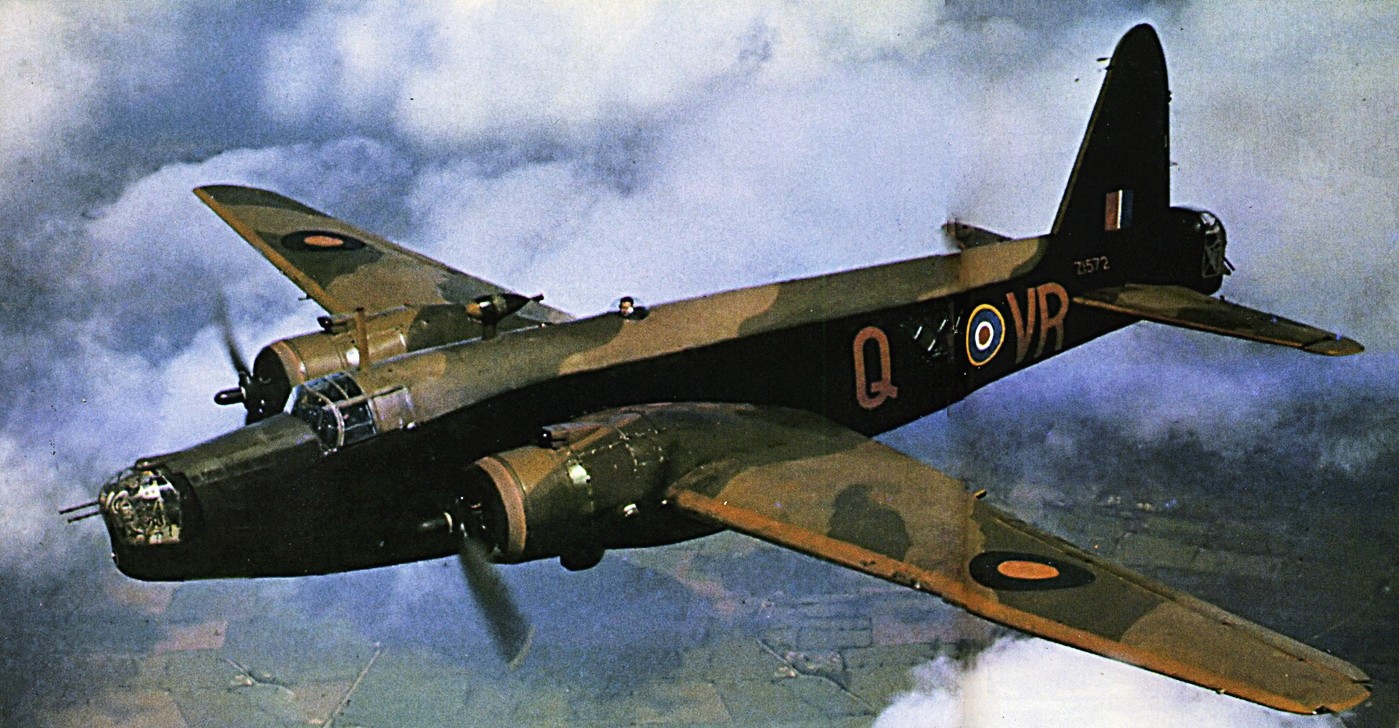 At 1.35 pm on the 29th June 1944, a Blackpool-built Vickers Wellington B.III bomber, serial number HF641, of 22 Operational Training Unit took off from RAF Wellesbourne, Mountford, Warwickshire on a navigation exercise. On board were its crew of six men from the Royal Canadian Air Force: F/O R J Andrews, Sgt W H Clark, Sgt A H MacKimmie, Sgt J B Sollie, P/O C E Stephen and F/O P W Tokar. During the flight the aircraft encountered turbulence and eventually entered a thunderstorm. At 5.20 pm the aircraft was struck by lightning and disintegrated over Roade.
Very few villagers remember this tragic event 70 years ago but these young men (one just 18 years old) gave their lives for the same cause as our own Roade boys and the memorial will ensure that their ultimate sacrifice will not be forgotten.
Many people and organisations helped to make the event a success and the cost of the memorial itself was met by Roade Parish Council , Roade Local History Society and Sywell Aviation Museum. Although led by Roade Local History Society, the project became truly a village affair and one of our members laid a wreath, not from the Society, but from the people of Roade.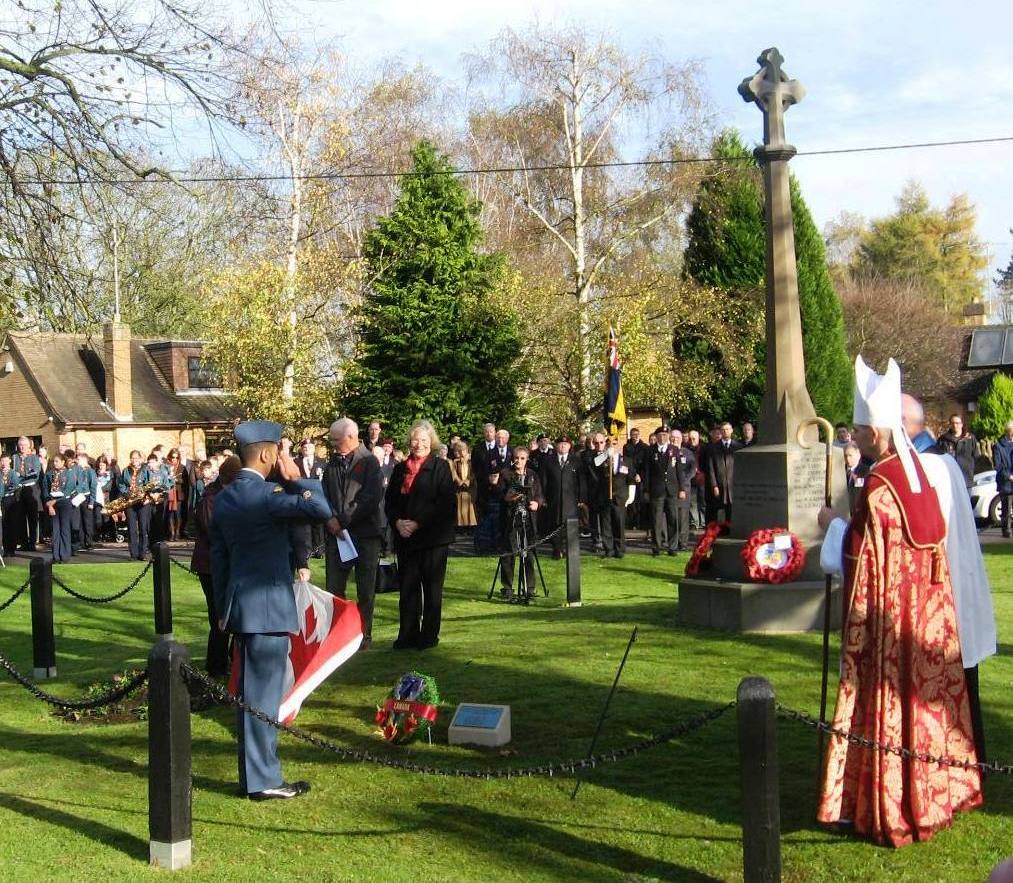 The following account of the day is based on a letter written to friends and well-wishers in Canada by our project leader Ron Johnson:
November 9th saw the dedication of our memorial to the 6 RCAF boys who lost their lives over Roade, 70 years ago, during WW2. It was a splendid occasion and we were blessed with a wonderfully sunny, windless day.
Hundreds of villagers turned out to pay tribute to the boys of Roade, who went away to two world wars and didn't return, and this year, to pay special homage to "Our Canadian Boys". We also saluted the few ex-servicemen and women from Roade who are still able to parade under the colours, and be applauded as they proudly marched behind our Scout Band.
We were joined by a young RCAF Warrant Officer, Dipen Mistry, who is presently stationed here in the UK. A more impressive representative, we couldn't have wished for - most dashing in his uniform, and with his lovely family accompanying him, W/O Mistry unveiled the memorial, which stands on our Memorial Green.
"Oh, Canada" was played at the end of our Remembrance Day service in St Mary's church, and again by the Scout Band (who had little time to rehearse) at the end of the dedication of the memorial. The service was conducted by Bishop John, of Brixworth.
Travelling over 4,000 miles, the Pye family, relatives of one of our 'Boys', laid their wreath at the memorial and spent a couple of days with us - looking around sites of interest. Sitting round the supper table chatting with them was one of the highlights of a busy and emotional weekend, and we thank them for coming so far (from Alberta) to join us.
After the dedication we put on an exhibition at which we displayed our research on the 6 boys – photos, letters, maps, reports etc. We were pleased to see so many Roade residents come and get to know a bit about the boys who had lost their lives so far from home – it was absolutely packed out, and we thank the Methodist Church for hosting us, and providing much-needed tea, coffee and, most importantly, cake!
Below are a few photos of the occasion, but we have so many more – plus some very nice video film (by Roade resident Paul King of 4Thought Productions, assisted by one of our members, Peter Doddington). Should you wish to see these, please let us know and we will make the appropriate arrangements.
So, the RCAF memorial is now there, sitting proudly next to our war memorial (erected over 90 years ago, after WW1), and although the memorial itself is obviously important to us all, it is worth remembering that the connections we have made over the past 6 months - our village, and our Canadian friends across the ocean, will hopefully remain and blossom, all of which together, will indeed be a fitting tribute to "Our Canadian Boys".
The following photographs were taken by Ron Johnson and Amy Mistry: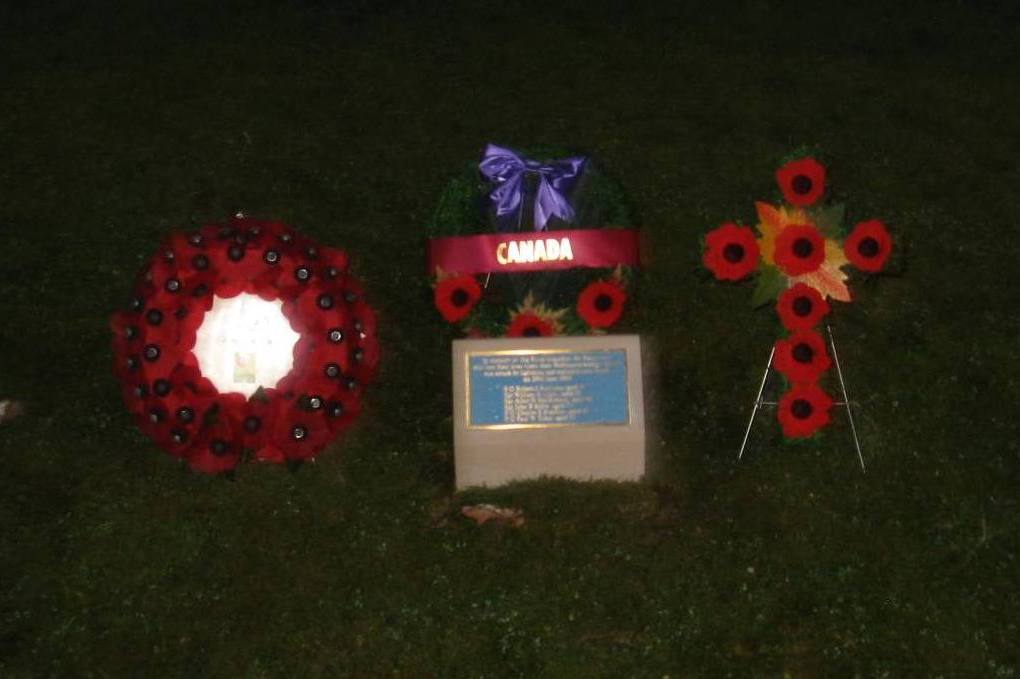 Thanks are due to all those who have helped to make this commemoration possible, particularly:
Roade Parish Council
and
Sywell Aviation Museum
www.sywellaerodrome.co.uk/museum
for their generous donations
Roade and District Branch, Royal British Legion
The Canadian High Commission
Warrant Officer Dipen Mistry
who unveiled the memorial
The Rt Revd John Holbrook
Bishop of Brixworth
who dedicated the memorial
The Revd Michael Burton
St Mary's Church, Roade
Roade Methodist Church
Grafton District Scout Band
Paul King
www.4thought.com
for filming the event
and most importantly
all those relatives and well-wishers in Canada who have contributed so much to this project


Roade Local History Society
December 2014