Next event (all being well)


Wednesday 28th July, 7 pm at St Mary's Church Hall, Roade, NN7 2PU

AGM followed by 'Down Memory Roade - recollections of Roade residents past and present'

Owing to the extension of Covid-19 restrictions, the date of our AGM has been changed to Wednesday 28th July. It will be followed by:
'Down Memory Roade – recollections of Roade residents past and present'
. Some of Roade's characters come alive again at the Society's first meeting after the long lockdown. Read by our talented acting team (members of the Every Brothers cast), the words of the late Reverend Sharland, Job Sturgess and cattle-rustler Job Shipp from The Swan Inn, shed a light on life in the village long ago, whilst those of our friends Editha Howard (nee Lamb), Annie Amos (nee Mountford) and others will bring back memories of more recent times. All with a background of
'magical lantern'
images!
---
As this year is the Centenary of The Royal British Legion we have a display in our John Gwilt Memorial cabinet in Roade Library about the Roade & District Branch (originally Roade and Courteenhall Branch, established in 1922). It will also be the centenary of the unveiling of Roade War Memorial, which took place on Sunday 31st July 1921.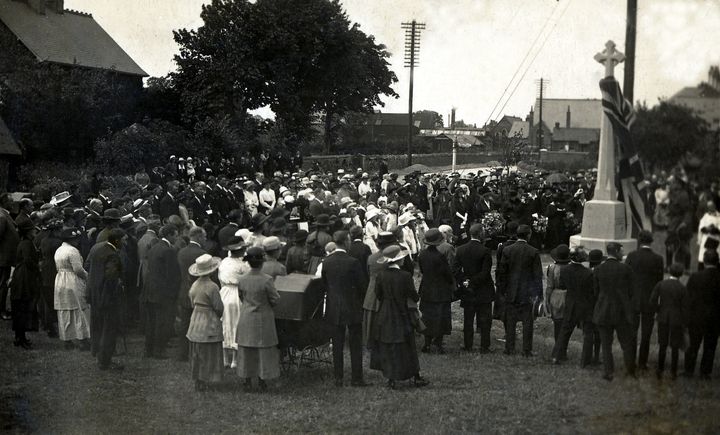 See our
What's On
page for details of other future events, including:
'The Every Brothers - Their Story'
scheduled to be performed on Sunday 14th November. Acclaimed play by Ron Johnson about three brothers who lost their lives in WW2. See
The Every Brothers - Their Story
for details.
Tickets on sale now:
www.thedeco.co.uk
Queries: email Ron Johnson at
RoadeLHS@hotmail.com

Chris Hillyard's book
CUTTING REMARKS The story of Roade's railways and Cutting through the ages
is now in pre publication formatting stage.
Click here for more information
.
Projects
- help needed!
"Projects" are an important part of our activities and we welcome help with these.
Please see our
current list of ongoing and future projects
for more information.
New Website
At the moment we are working on a variety of projects including the development of a new website which will include the ability to display most of the photographs in the Society's substantial archive.
Coronavirus Diary Project - can you take part?
Northamptonshire Archives and Heritage Service would like people to "begin a record or diary of your thoughts, feelings and daily activities during the coronavirus pandemic and especially any changes you have noticed in your community".
Click here for details.
If you decide to take part in the project, RLHS would be very grateful if you would let us have copies of your submissions. Please email
secretary@roadehistorysociety.org.uk
Oral History Interviews
Since 2007 we have been interviewing local residents as part of our Oral History project and we have made these available for purchase on CD.
Click here for more information.
Telephone enquiries 01604 864498 or 862735
Scroll further down for some pictures and information about our recent events.

News
The Every Brothers - Their Story

Play to be performed again at the Deco Theatre, Northampton on Sunday 14th November 2021.
Tickets on sale now: www.thedeco.co.uk Queries: email Ron Johnson at RoadeLHS@hotmail.com


As part of Remembrance Day commemorations in Roade in 2019, Ron Johnson wrote a five act play about three casualties of WW2, the Every Brothers, sons of a London family evacuated to our village during the war. His source was an archive kindly donated by the family to Roade Local History Society. It was staged on 9th November at Elizabeth Woodville School, Roade, before a packed audience of locals, Deputy Lord-Lieutenant Col John Royle MBE, four JPs, members of Roade & District and Duston branches of The Royal British Legion and other military and ex-military personnel.
Using a minimal, well-lit stage set, and structured round a narrator, the drama sets out the background, and then enacts events in the home life and military careers of the brothers one by one. Keeping strictly to unadorned format and delivery, script and cast avoided sentimentality and mawkishness, instead generating a cumulative sense of tragedies overtaking a very ordinary family.
It would be invidious to single out any one of the cast for special praise when each player brought a high level of competence to the part. It was an expert performance of a fine work, creating genuine emotion in the audience, and saluted at the end by that rarity, a standing ovation.
Thank you to all who came to 'The Every Brothers' and congratulations to author Ron Johnson, the cast and crew and everyone involved in making the evening such a success. The play was brilliant and it was a very special occasion.
The attached Anglia News report was recorded at the dress rehearsal.
https://www.youtube.com/watch?v=JvQZahyUYTc
Roade Cutting

Of the numerous challenges which Robert Stephenson faced during the construction of the London & Birmingham railway, Roade Cutting remains one of the most visibly awe-inspiring engineering achievements of the nation's railway infrastructure. It is the timeless legacy which Stephenson and his engineers left to our village and the nation.
Designation as a 'Site of Special Scientific Interest' in 1986 ensured its protection as an asset of National Geological Significance. In 2018 its engineering excellence was recognised with the award of a prestigious 'Red Wheel' by the Transport Trust, designating it a 'National Transport Heritage Site'. The Cutting enabled the completion of the world's first long-distance inter-city railway, which was officially opened on Monday 17th September 1838.
Click here for more information about the Red Wheel
A two-day grand exhibition celebrating the 180th anniversary of the opening of the London & Birmingham Railway was held at Roade Village Hall on the 8th and 9th September 2018. RLHS welcomed exhibitors from a variety of national and local railway societies. Strong additional support came from local history, industrial archaeology and transport heritage organisations and many local community groups and individuals. We were very grateful for financial support from Northamptonshire Community Foundation, Milton Keynes Heritage Association and local sponsors.
The principal RLHS exhibit was a model of the Cutting, former Station and diverse railway infrastructure. The model is indicative of the village's social and economic development since the railway came to the locality in the 1830s. It was made by Society members, local artisans, artists, technical specialists and Elizabeth Woodville School staff and students. The model was accompanied by a series of display boards about the history of the Cutting and its impact on the community.
The exhibition was opened by the Rt. Hon. Andrea Leadsom MP and the Red Wheel was unveiled by Stuart Wilkinson, Chairman of the Transport Trust, and Chris Hillyard RVM, Roade Local History Society. The exhibition was very successful and awards were subsequently received for the event and the model.
Click here for more information about the Roade Cutting Exhibition.
CUTTING REMARKS The Story of Roade's railways and Cutting through the ages:
Chris Hillyard has now responded to many requests for a book based on his research and that of Roade resident Alvin Barby. Publication is delayed due to Covid restrictions - please check this website for updates.
Oral History Interviews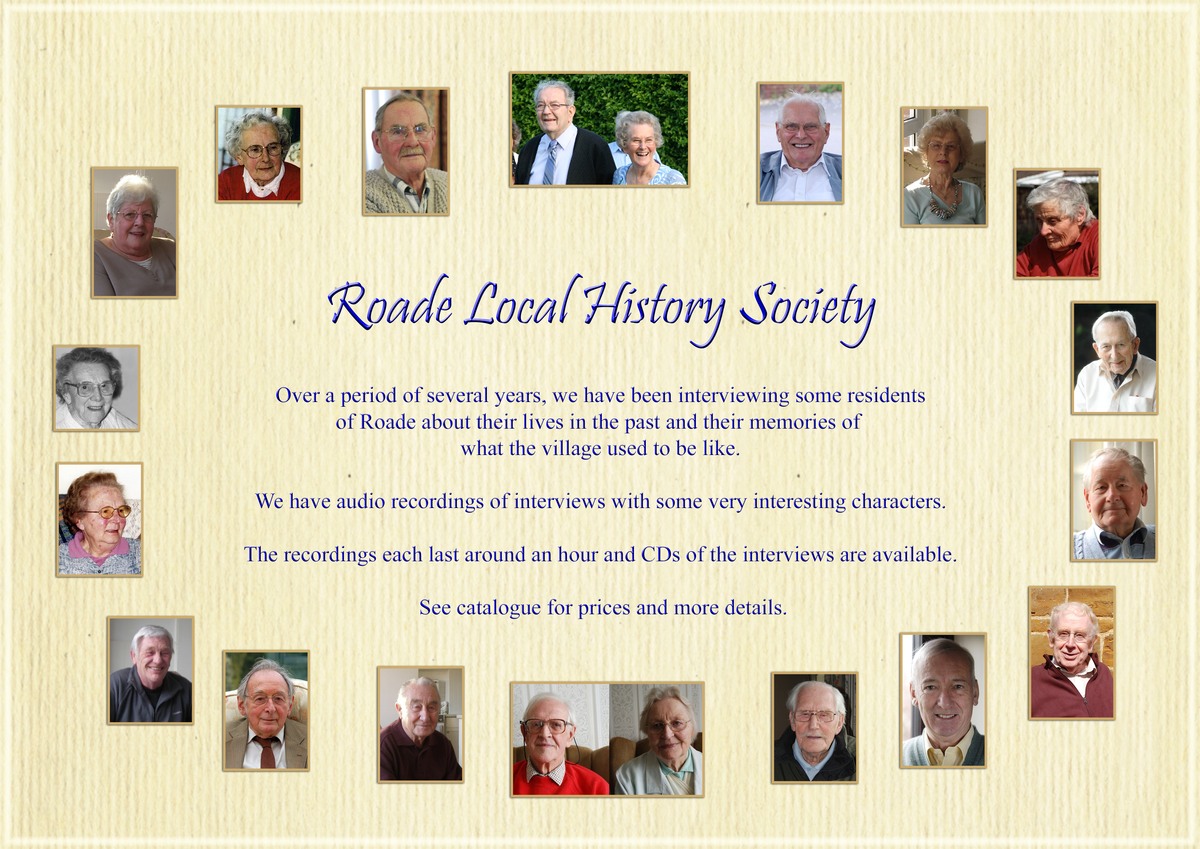 Click the poster above to open a larger version in a new window

Since 2007 we have been interviewing local residents as part of our Oral History project and we have made these available for purchase on CD.



Recent Events
(Earlier events can now be viewed on this link:
Earlier events
)
26th February 2020

In the Thick of it: Northampton's contribution to the Best Possible Health Care for the Nation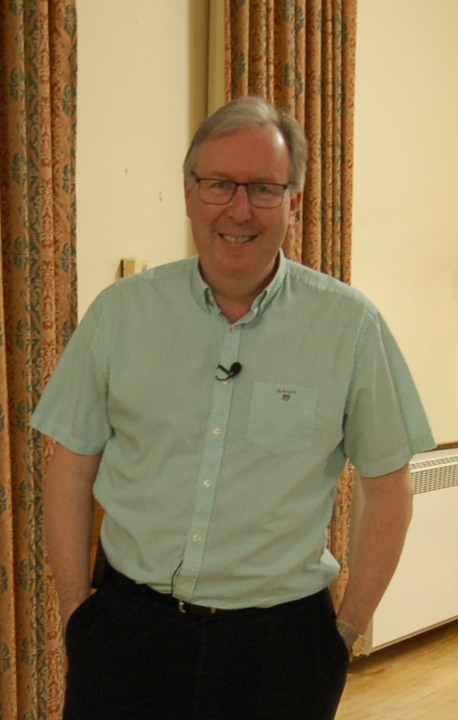 Roade resident Dr Andrew Jeffrey is a Consultant at Northampton General Hospital and gave us a fascinating talk about the history of local health care.

We were amazed to hear about the medical advances and innovations which have taken place in Northampton since the first Infirmary in George Row opened in 1744.

The innovations are continuing and it was very encouraging to hear that the outlook is good and NGH is developing links with several universities.

18th January 2020
Members' New Year Lunch at Roade Bowls Club


Martin Brown and his team provided an excellent carvery plus a choice of three delicious puddings. This worked very well with people able to choose what they wanted on the day and help themselves to coffee, tea and chocs.

There were two quizzes (one using photographs taken by our late founder, Bill Hudson) and three entertaining readings by Nigel Elliott, Chris Hillyard and Marian Barber. Marian also provided the lovely flower arrangements. Many thanks to them, to all who gave raffle prizes and to Roade Bowls Club for their help and support.

A good time was had by all and we look forward to another happy afternoon next January.

11th December 2019
Christmas Cheer


Our Christmas event was very enjoyable and we were delighted to welcome the Bill Hudson Photographic Competition winners and their families and Roade Community Choir.
Those who missed the wonderful Every Brothers Play in November were able to see an exhibition about them and we all applauded author Ron Johnson.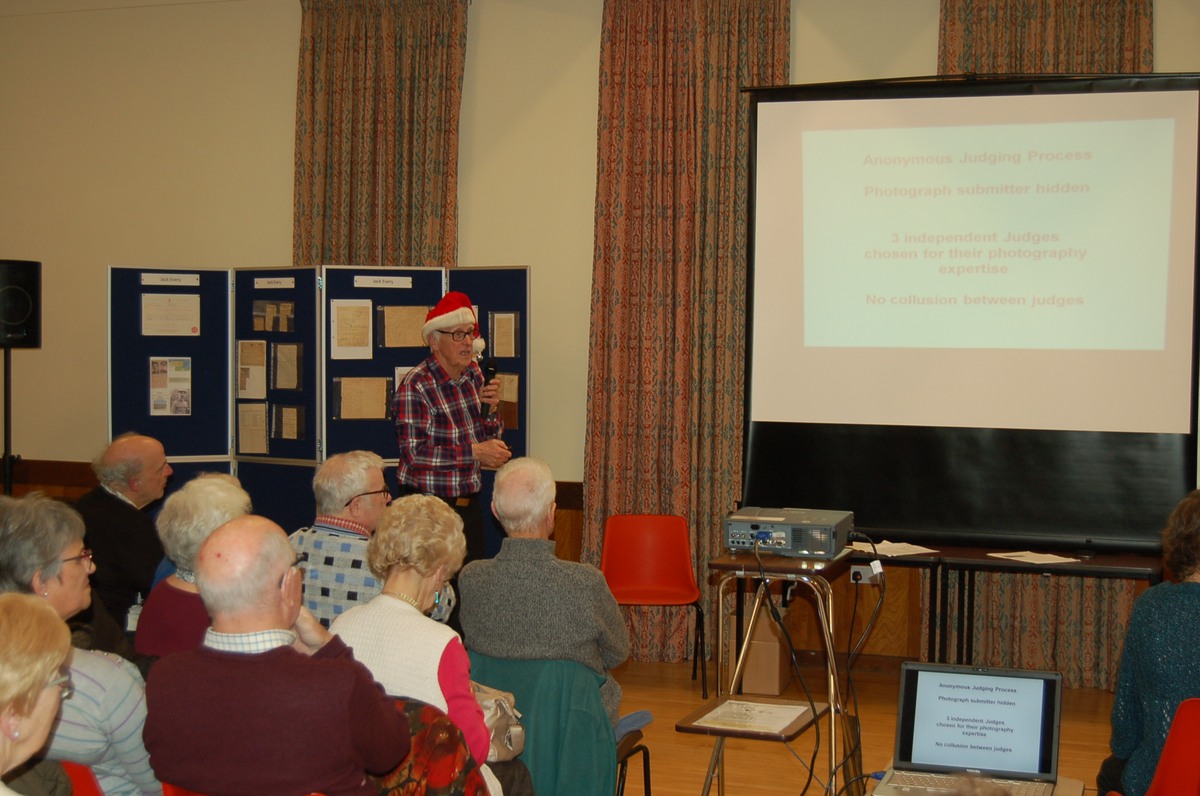 Peter Mawby gave an excellent presentation about the Photographic Competition
and presented the winners with their prizes.
The judges didn't know who the photographers were and it turned out that
1 person had 3 winning photos and 3 people had 2 winning photos.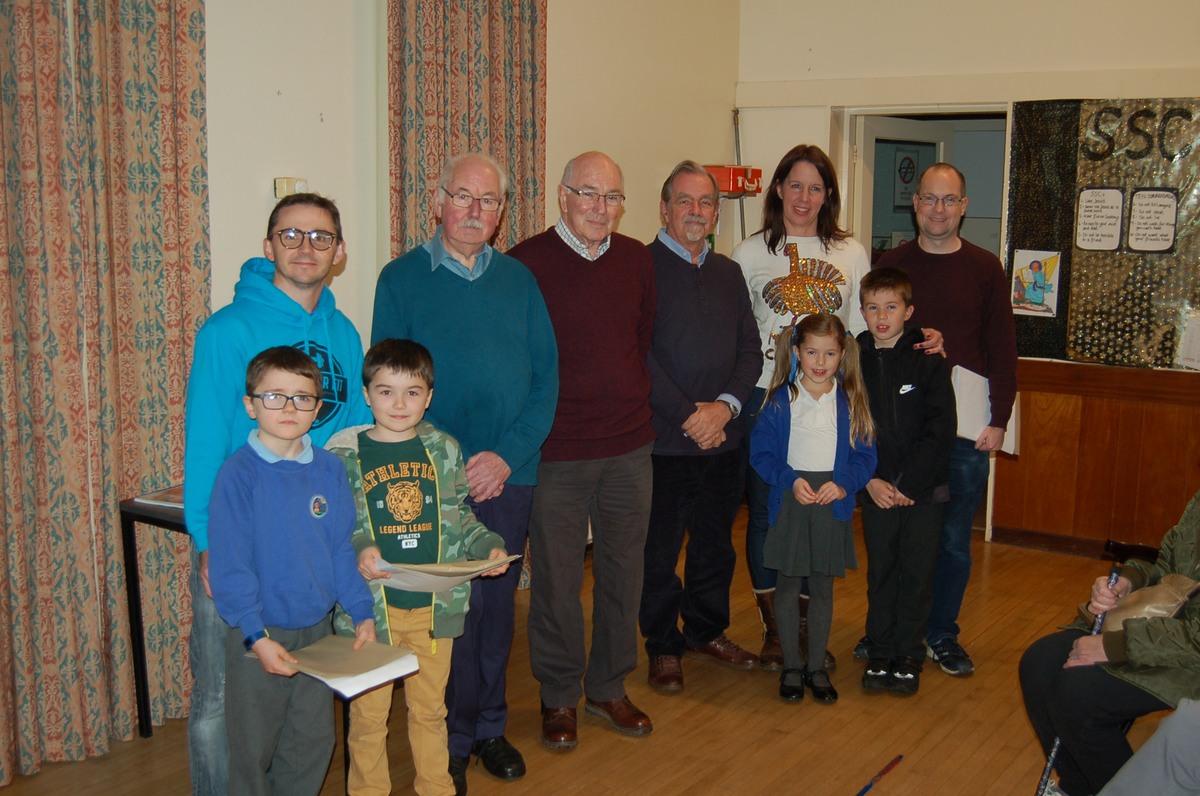 Bill Hudson Photographic Competition winners:

L-R Stuart Brough, Sam and Toby Brough (joint winners of children's competition),

Les Shrubb, John Farebrother, Alan Atkinson, Hilary Rowe and children, Stuart Shrubb

Alastair Inglis entertained us with his
experiences 'Rallying from London to Peking'.

Carol singing led by Roade Community Choir

Many thanks to them all for
such a joyful end to the evening.

Royal Canadian Air Force
Roade Local History Society has installed a small memorial to commemorate six Canadian airmen who lost their lives when their Wellington bomber was struck by lightning over Roade in 1944.
MACE
Full Circle - connecting people with the screen heritage of the Midlands.



Tucked away in boxes in attics and sheds,cupboards and garages are the filmed records of families and communities which are a uniquely important window into our local and community history. The Media Archives for Central England (MACE), the regional moving image archive for the East and West Midlands, is seeking 60 partner organisations to look for this valuable material in their own communities as part of a project to find and uncover the hidden filmed heritage of the midlands. The project will provide new copies of film for depositors and for community use in local schools, community archives and local collections. It will ensure the long term preservation of the materials found so that it can go on being used by future generations. Roade Local History Society has received several films that qualify for free copying for the owners. We will be holding a film show in the New Year, but meantime would welcome talking to anyone who has potentially suitable films that they may no longer be able to view and would like converted to DVD. This covers films of such things as public events, shows, gatherings, scenes, etc in Northamptonshire, but does not include films of holidays or family.



ALTHOUGH THIS PROJECT FINISHED IN MARCH 2013, FILMS ARE STILL BEING SOUGHT If anyone has film that should be preserved or you would like copying to DVD, please contact our Secretary (see the Contacts page
Books


We are building a comprehensive archive of photographs and documents about Roade for research and publication. To date we have produced 'Roade Roll of Honour', 'Roade Through The Camera' and 'Roade Village Scrapbook 1953'. See our Publications page for more information about these.

Our next publication CUTTING REMARKS The Story of Roade's railways and Cutting through the ages is almost ready for print but publication is delayed due to COVID restrictions. See here for more information.


Events


We have been organising events related to local history since May 2005. These normally cover Roade and its environs and sometimes the wider county. A feature of events has been 'Sons and Daughters of the Village": presentations by residents, past and present, who have created history in their lifetime or have interesting reminiscences about their life in Roade. Events normally take place every month (except August) and start at 7.30pm in St Mary's Church Hall, unless otherwise stated. Non-members are very welcome. Entry is £3.00 per person for non-members or £2.00 for members and refreshments are available.


Talks may be subject to change if necessary.


For details of our next event, please see What's On or Roade News or the Notice Boards around Roade.