Our calendar of forthcoming events is available on the
What's On
page.
Details of some recent events
Our recent talks have been well attended by both members and non-members and we hope to see even more people at our events in the coming year. If you haven't been to one, do come along – you will be very welcome.

23rd October 2019
Alfred Cockerill, Northampton's Forgotten Philanthropist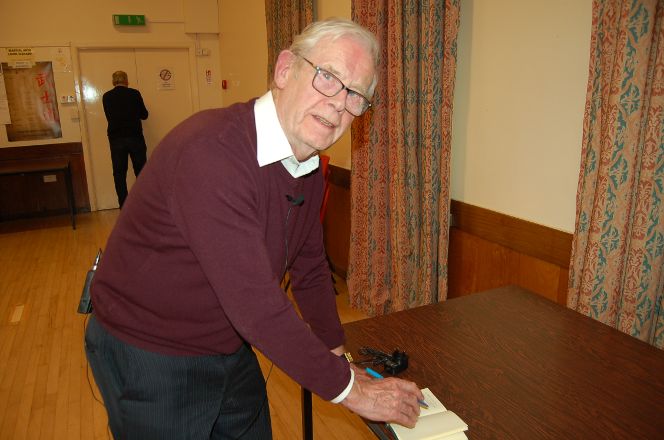 Bob Farey gave us an excellent inspiring talk about a very remarkable philanthropist, Alfred Cockerill. RLHS is now supporting Bob's campaign for a memorial to Alfred, who gave the County Ground to NCCC and was a generous benefactor to numerous Northampton organisations and individuals.
25th September 2019
Northampton's First Police Force; Misgivings, Municipal Mission and Misdemeanours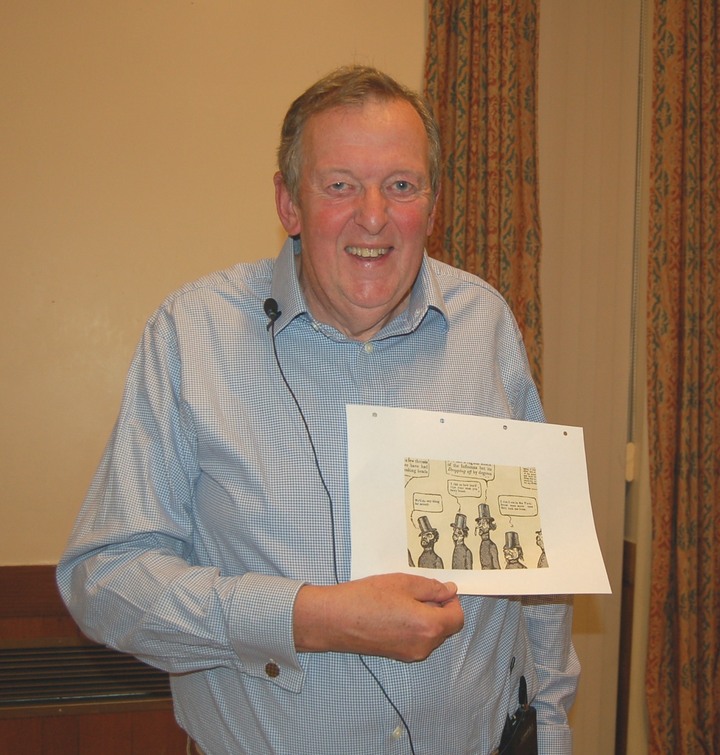 Alex Wood began the research which resulted in his excellent lively talk after discovering that his ancestor, William Spencer, was one of Northampton's first police constables.
The Force was established in 1836 and was not welcomed by the public. The recruits were of very variable quality and misdemeanours included drinking on duty. Some performed very well. Others proved to be slow and unfit and the authorities soon realised that it was not a job for old men.
2nd July 2019
Guided Tour of Furtho and Cosgrove with Wendy Page
Wendy gave us a very interesting tour starting with a visit to Furtho Church and Dovecote, followed by a walk round Cosgrove starting at the Church and ending at the pub (the Barley Mow). Everyone thoroughly enjoyed seeing the remarkable buildings and hearing fascinating stories, some featuring people connected with Roade. We can recommend the excellent website:
www.cosgrovehistory.co.uk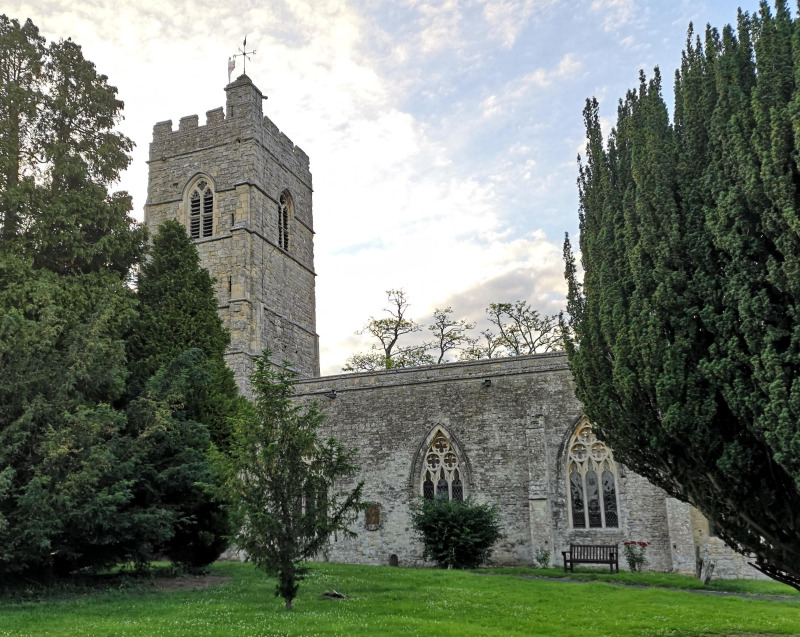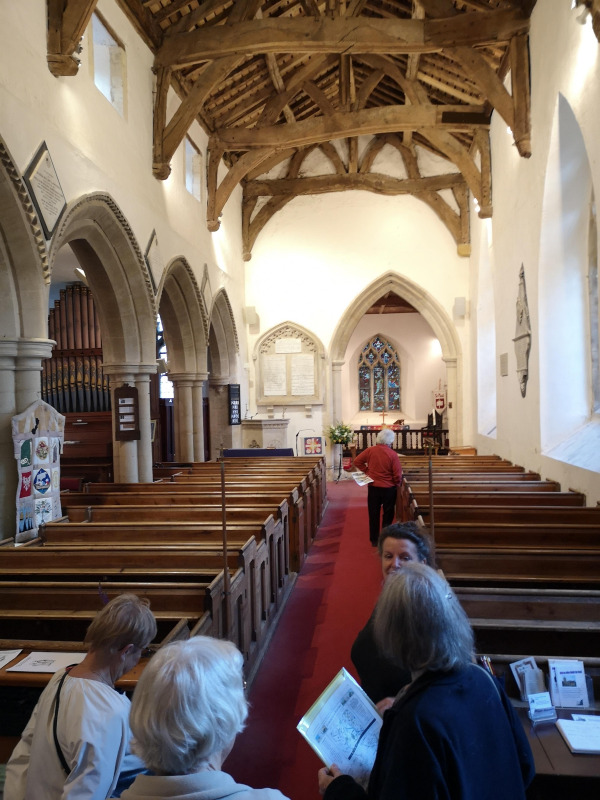 Cosgrove church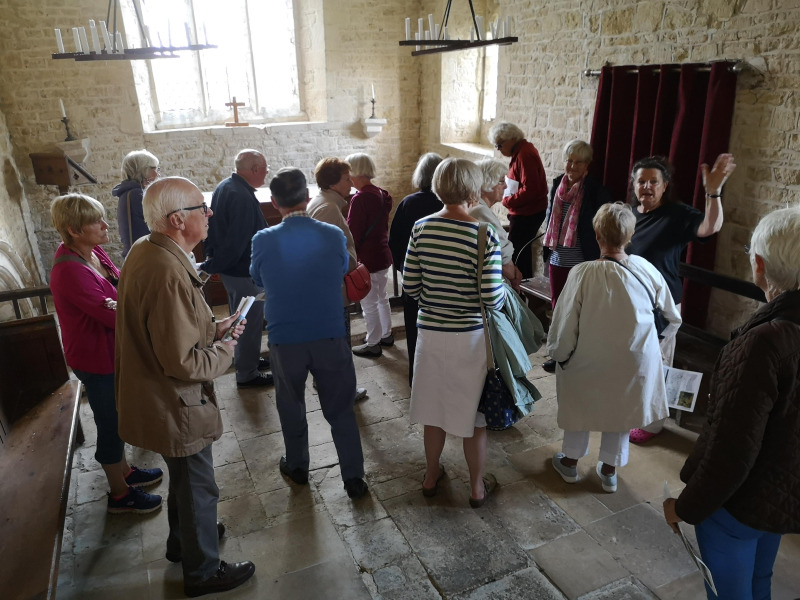 Furtho church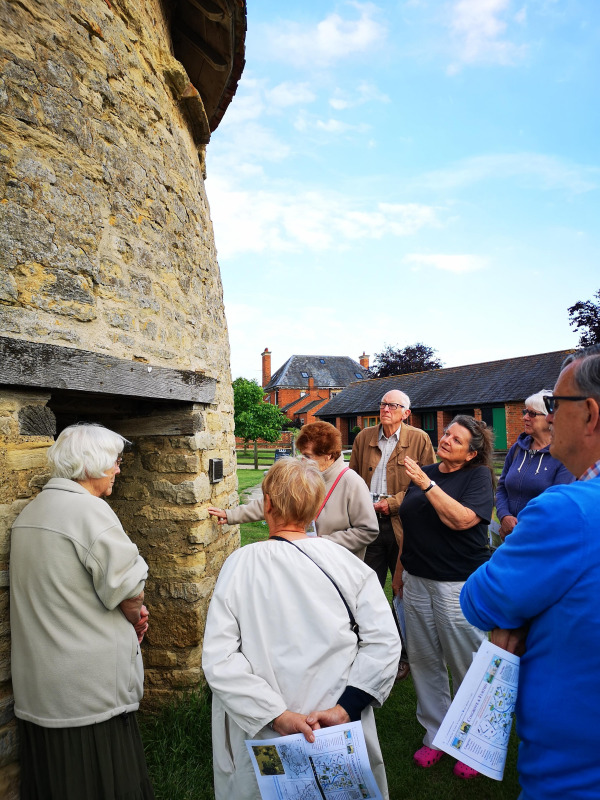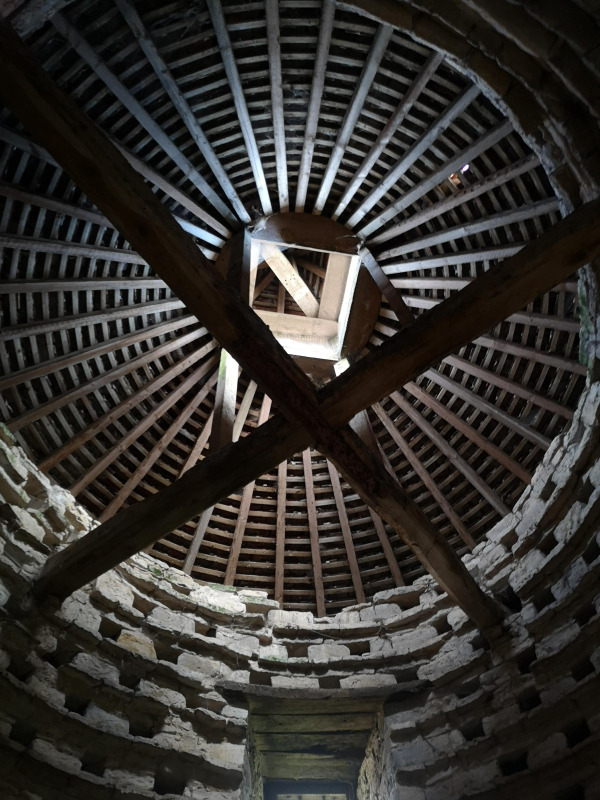 Furtho dovecote
22nd May 2019
'Roade Remembered' & 'Pianoforte Supplies Ltd'


After our AGM Committee member Ron Johnson gave an excellent slideshow of photographs harvested from the 'Roade Remembered' and 'Pianoforte Supplies Ltd' Facebook groups. The photographs were new to most of the audience and we were able to gather useful information about the people, places and events depicted. It was an enjoyable evening which brought back memories for many and was interesting for new residents as well.


24th April 2019
By Royal Disappointment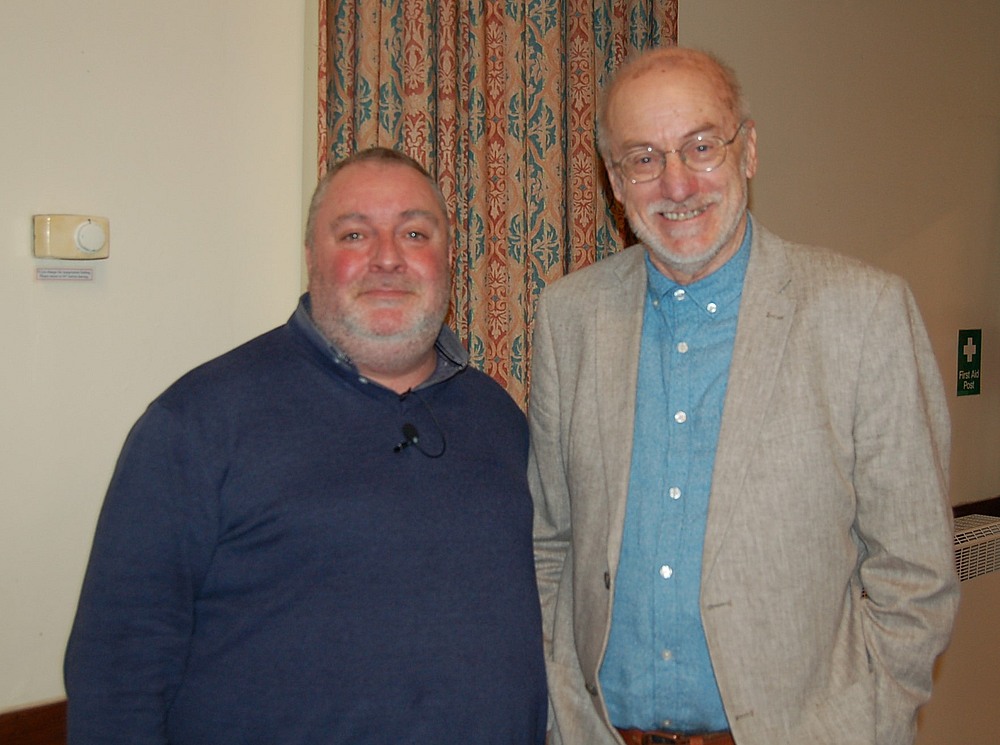 Tony Clarke with former colleague Ron Johnson.

Tony Clarke, MP for Northampton South 1997-2005, told a very interesting and entertaining inside story about his experiences as a local councillor and MP. His determination to represent the interests of his constituents got him into trouble and even danger when he refused to toe the party line. The machinations involved were shocking as well as comic and it was good to hear that he sometimes had the last laugh.
27th March 2019
The Silk Road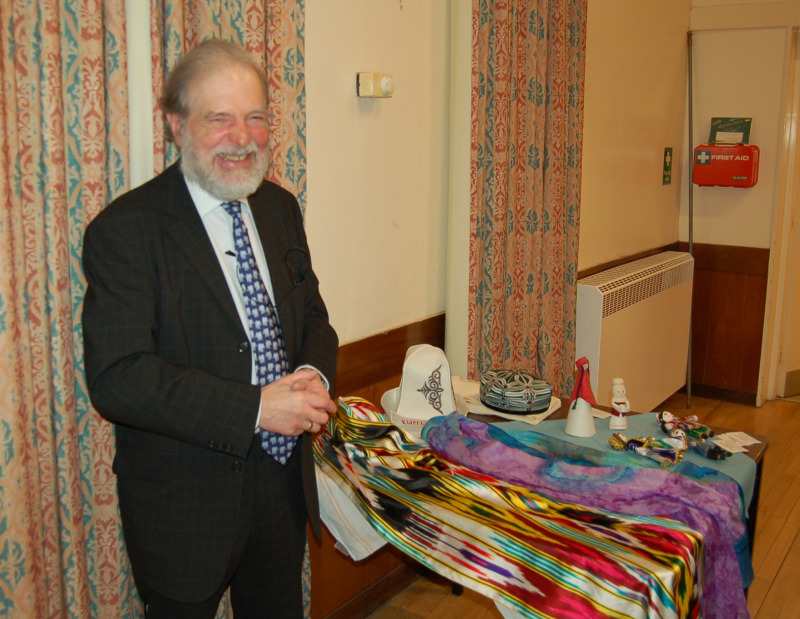 Ray Rowlson gave a fascinating talk about his travels on the Silk Road with his wife Jenny. His wonderful photographs made us feel we had been on the journey ourselves, seeing the beautiful scenery and buildings, shopping in the markets, eating exotic food, meeting friendly people and learning some history too.

27th February 2019
Roade's Collector Cousins and the Auction of the Century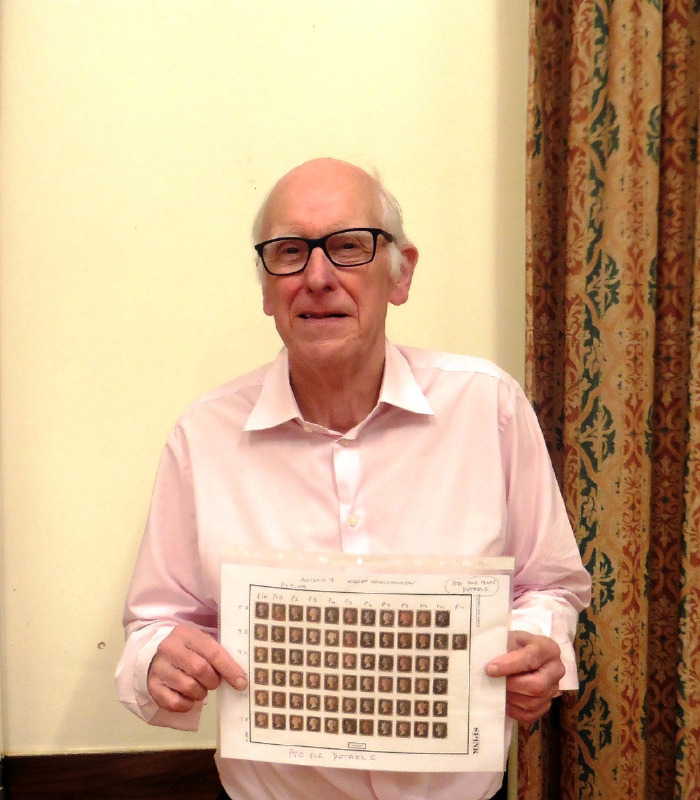 Roade residents Syd Humphrey and Humphrey Cripps were hard working well educated cousins who made a significant contribution to our village life. Their shared enthusiasm for personal hobbies produced nationally important collections of butterflies, show birds and postage stamps. Their successes included the famous Chartwell Stamp Collection Auctions of 2011-2012.
Many thanks to committee member Peter Mawby for giving us such an excellent talk - well pitched to interest and entertain everyone as well as giving an insight into extreme philately.
12th December 2018
A Chistmas Collation

Our Christmas event was very enjoyable.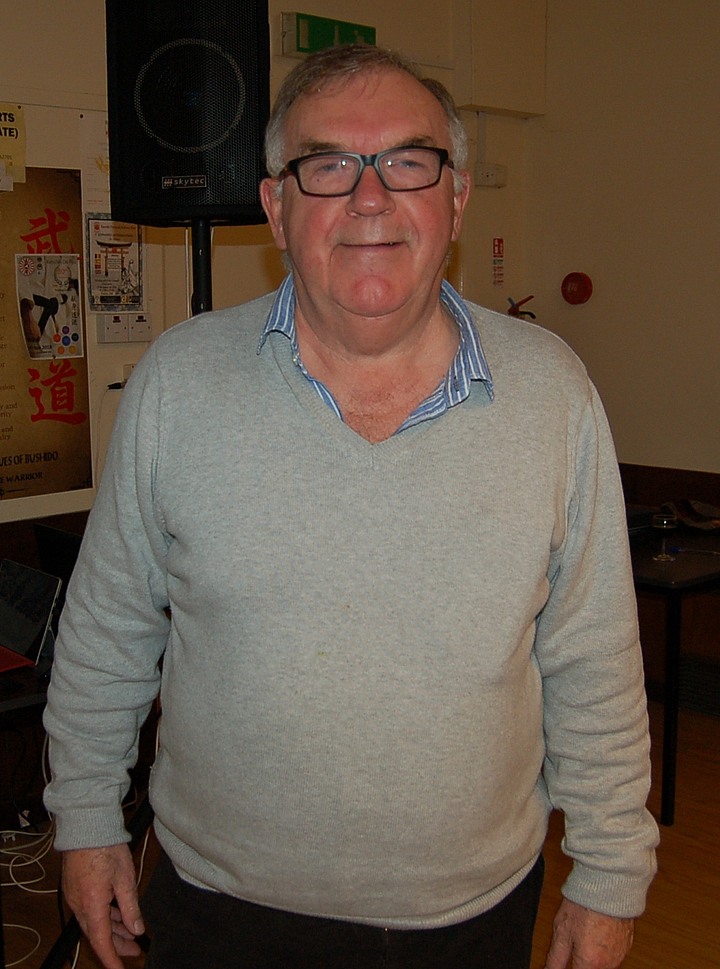 David Wortley gave us a fascinating talk about his spherical videos and brought headsets so that we were able to have a truly immersive experience.

Scroll down to learn more about David's work including the videos he made of our September Roade Cutting Event and the video and interactive map of Roade on Remembrance Sunday.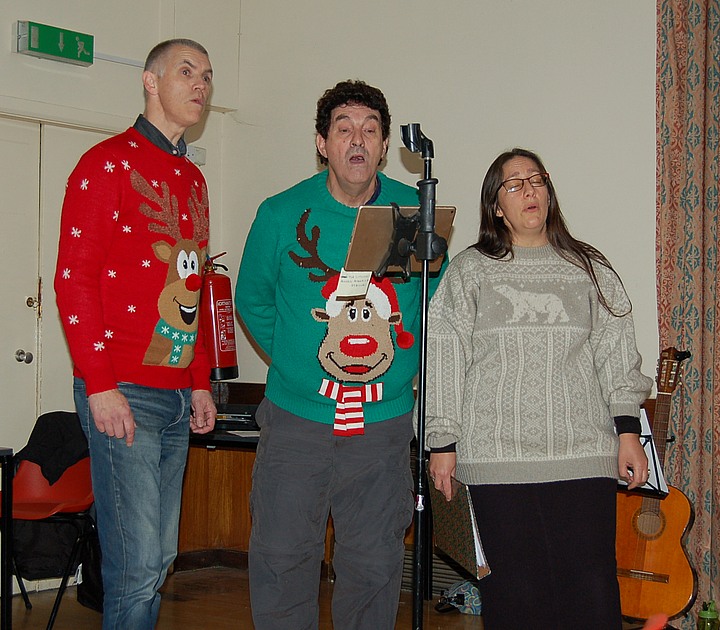 We were then entertained by excellent local group Jinx accompanied by Ron Johnson on guitar and the evening closed with a merry Christmas singalong


11th November 2018

Roade Roll of Honour Exhibition
Please click here to see details of this event.


24th October 2018
The Women's Land Army in Northamptonshire during the First World War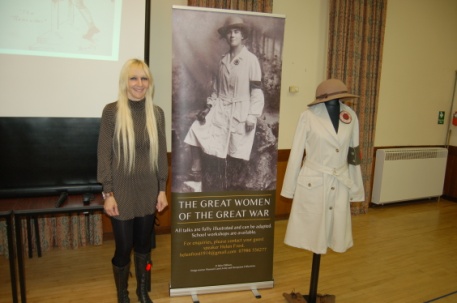 Helen Frost held everyone spellbound with her fascinating talk about the Women's Land Army in World War 1 and their role in combating life threatening food shortages.
26th September 2018
Escape from Roaditz

John Dickie gave an excellent entertaining talk about his experiences as
a teacher at Roade School (now EWS).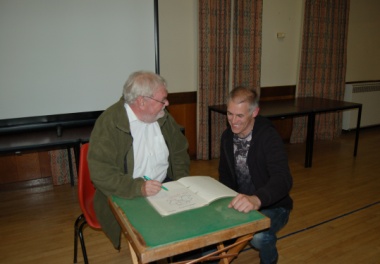 John reviews Andy Johnson's
homework 30 years on
8th & 9th September 2018

Roade Railway Cutting Exhibition

Please click here to see details of this event.

11th July 2018
Visit to the National Leather Collection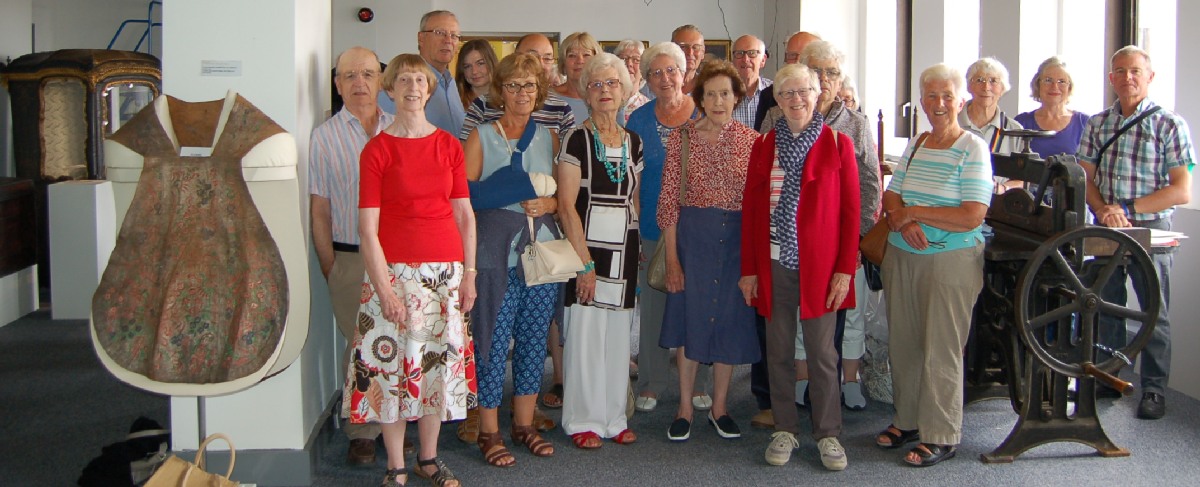 Members and guests enjoyed a fascinating tour of the National Leather Collection in the Grosvenor Centre, Northampton
- well worth a visit.

See https://nationalleathercollection.org/ for information and latest opening hours.


23rd May 2018
Canons Ashby: Priory, House and Family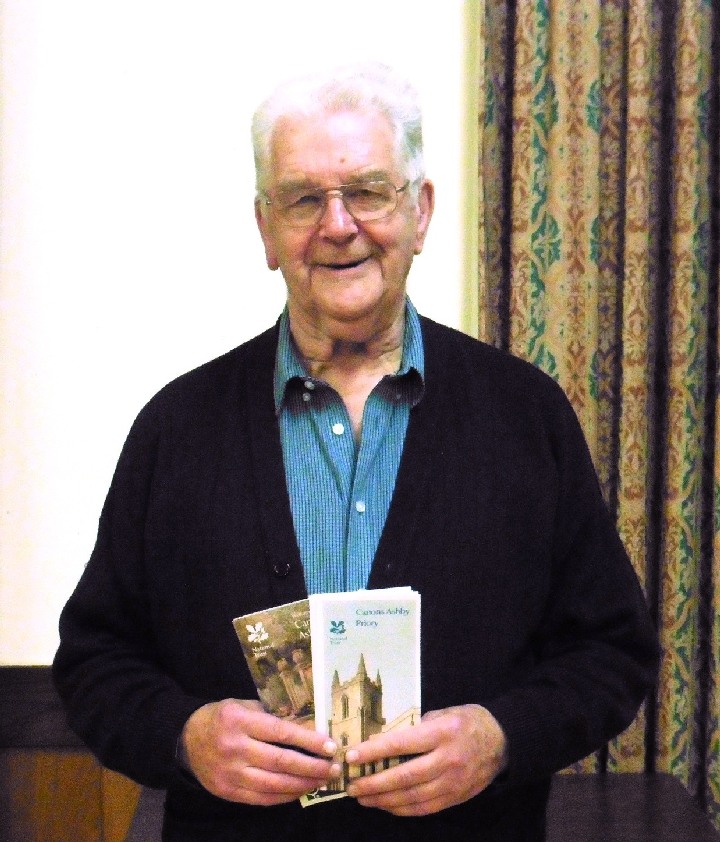 RLHS member Roy Phillips is a guide at Canons Ashby and gave a very accomplished and entertaining account of its history
"from Domesday to the Present Day via Reformation, Revolution and Restoration".

He was delighted to discover that his great-great-great-uncle had worked as butler for the Dryden family of Canons Ashby in the mid-19th century.

25th April 2018
Cutting Remarks - Tales from the depths of Roade Railway Cutting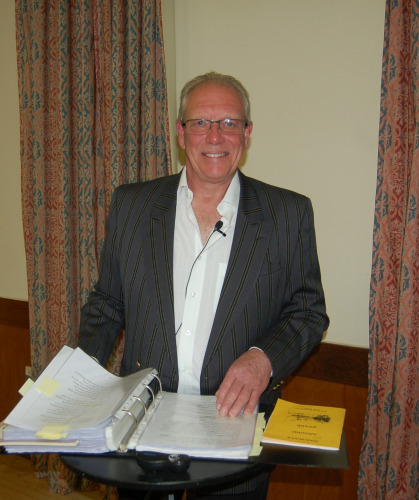 Chris Hillyard, RVM, RLHS committee member and former manager of the Royal Train, gave a very popular talk full of new information and stories of people connected with the Cutting at various stages of its history - a great taster for our event on 8th/9th September.
28th March 2018
Get 'em down - your memoirs that is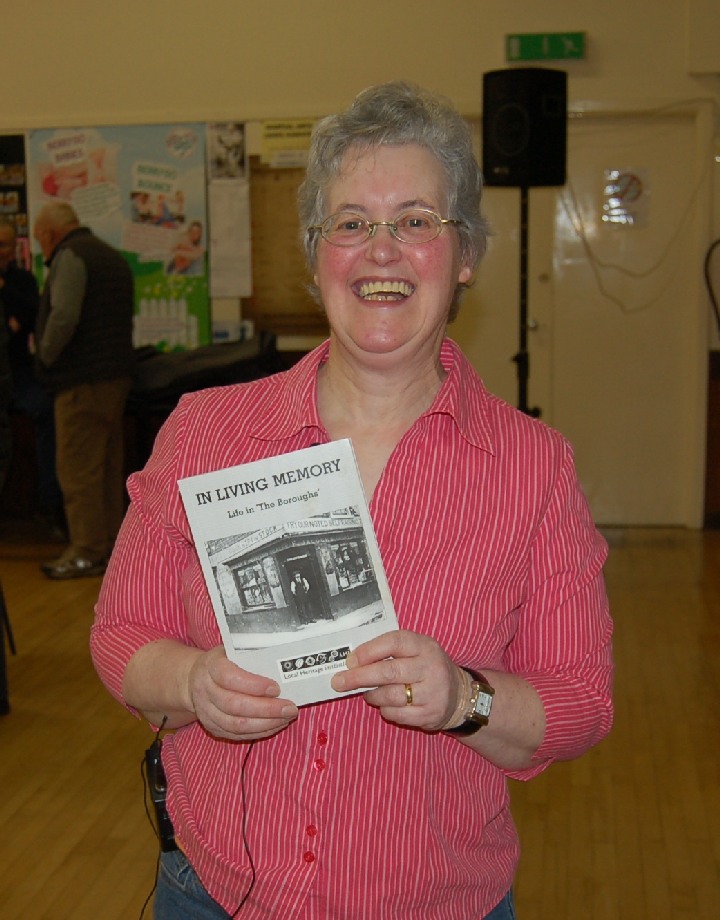 Kate Wills encouraged us to get down our memoirs with some lively audience participation and examples of scenes from the past documented by local people. We hope to run some reminiscence/memoirs sessions at Roade Library once its future is assured.
N.B. our February event was to have been a talk by John Dickie: "Escape from Roaditz".

This was postponed due to bad weather and took place on Wednesday 26th September 2018.

20th January 2018
Another excellent New Year Lunch at Roade Bowls Club
| | |
| --- | --- |
| Nigel Elliott won the unusual objects prize. | Applause for Martin Brown and team. |
13th December 2017
Evening of Christmas Cheer
Our Christmas event was a great success. Many thanks to our two entertaining speakers:


| | |
| --- | --- |
| Peter Bennett, who gave an interesting talk about his experiences as a young surveyor helping to install an oil pipeline in Gabon in 1966. | Peter Mawby, who brought us up to date with an excellent account of the rise and demise of Pianoforte Supplies Ltd. |


Our archivist, Ron Johnson, produced an excellent display on Warwick House (once a school).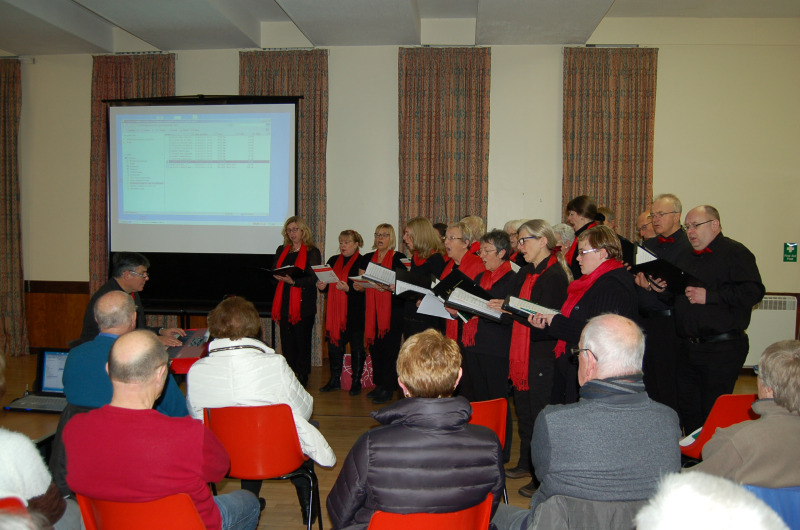 Roade Community Choir joined us for festive refreshments and carol singing. Many thanks to them all for a great finale to our Christmas event. Everyone thoroughly enjoyed both listening and taking part and we hope they will come again next year.

8th December 2017
Memorial to Dr John Gwilt, MBE
at
Roade Library


The John Gwilt Memorial Display Cabinet is now in place at Roade Library after a very pleasant event when John's son Dr David Gwilt unveiled the Cabinet and he and Alastair Inglis spoke about John's life before and after he came to Roade.

John was awarded the MBE for services to the community in Roade. He was a member and chairman of the Parish Council, governor of both schools, leader of Neighbourhood Watch for many years, a popular member of Roade Local History Society and supportive of the library and both churches in the village.

We are delighted to have the Cabinet, which was largely funded by Dr David Gwilt with contributions from Roade Parish Council and RLHS. It will enable us to provide changing displays relating to our local history in a very appropriate place where they can be seen by all.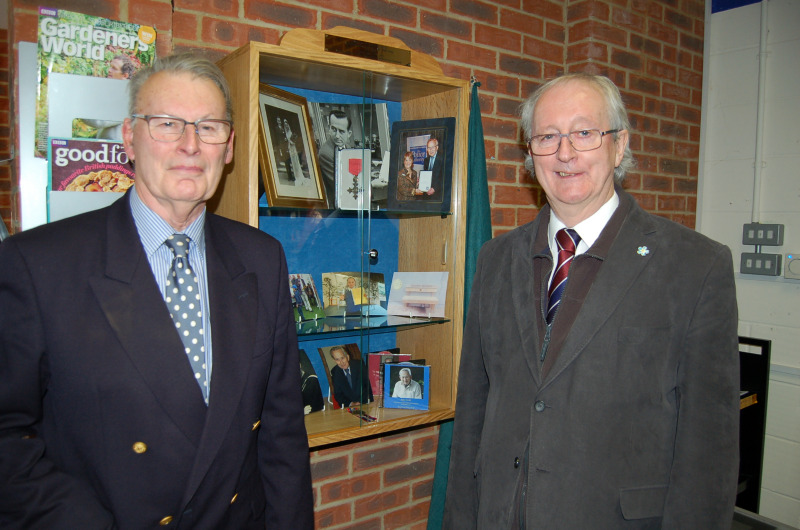 Alastair Inglis and David Gwilt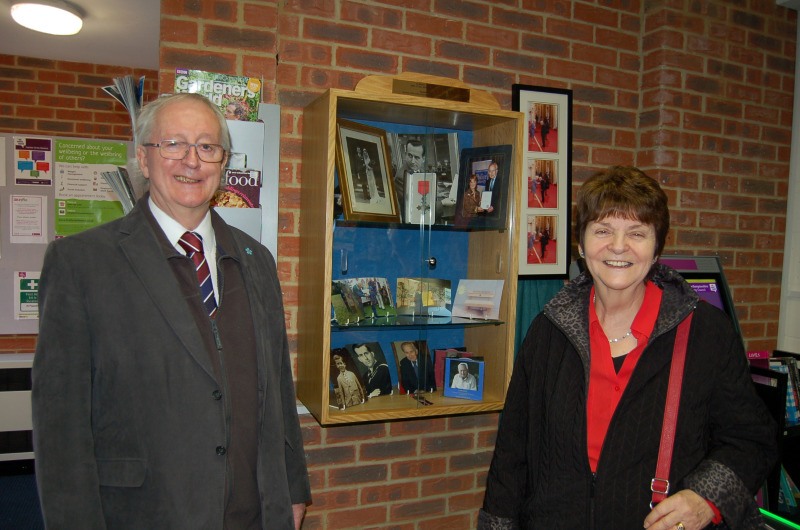 David and Blodwen Gwilt


Many thanks to everyone who helped, especially Marian Barber, Nicky Hall, Myra Inglis and Sylvia Mawby for providing delicious cakes in memory of John, himself a renowned cake maker.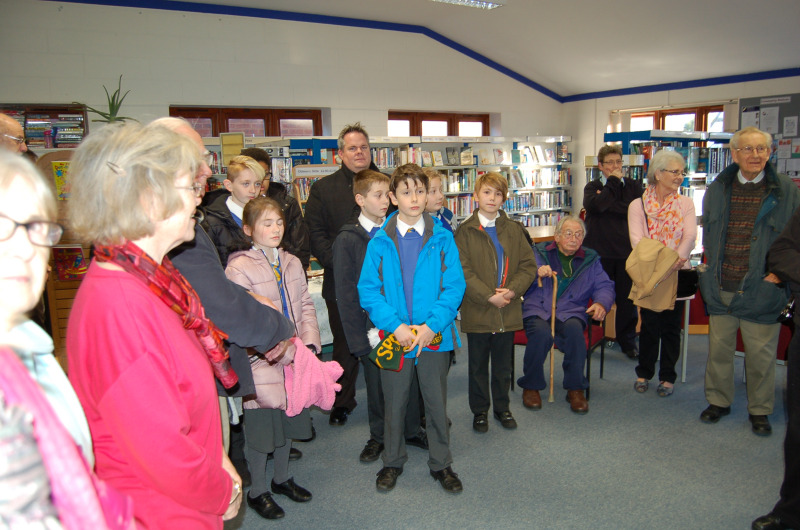 22nd November 2017
Domestic Order: Families, Wives and Husbands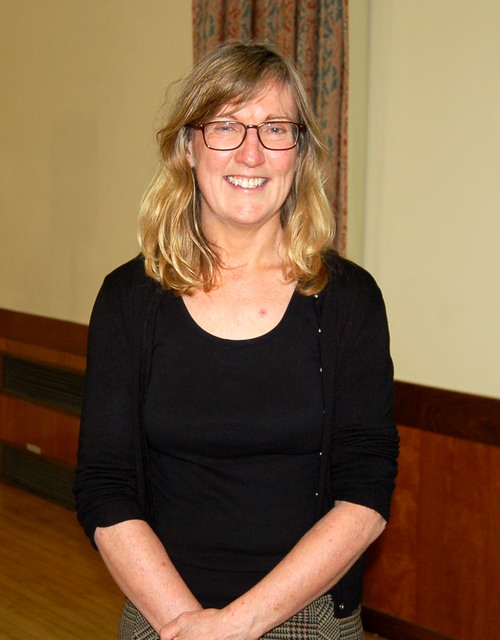 Dr Cathy Smith's talk was her third to the Society. She gave us a fascinating account of the domestic life of ordinary people in the 16th and 17th centuries. Marriage was not private and communities interfered when behaviour was considered out of order. They would bang pots and pans outside the houses of offenders and humiliate men who were dominated or cuckolded by their wives. A nagging wife might be made to wear a scold's hat. Divorce was not available but there was a practical solution - unfaithful wives could be sold to their lovers.
25th October 2017
ERNIE (His word is his Bond) The story of the first Premium Bond machine

Roade resident Phil Hayes is the chief engineer of the Colossus Rebuild at The National Museum of Computing at Bletchley Park. He gave us a very interesting and evocative talk about the development of ERNIE 1 (Electronic Random Number Indicator Equipment) and the first Premium Bond prize draw in 1957. It brought back many memories.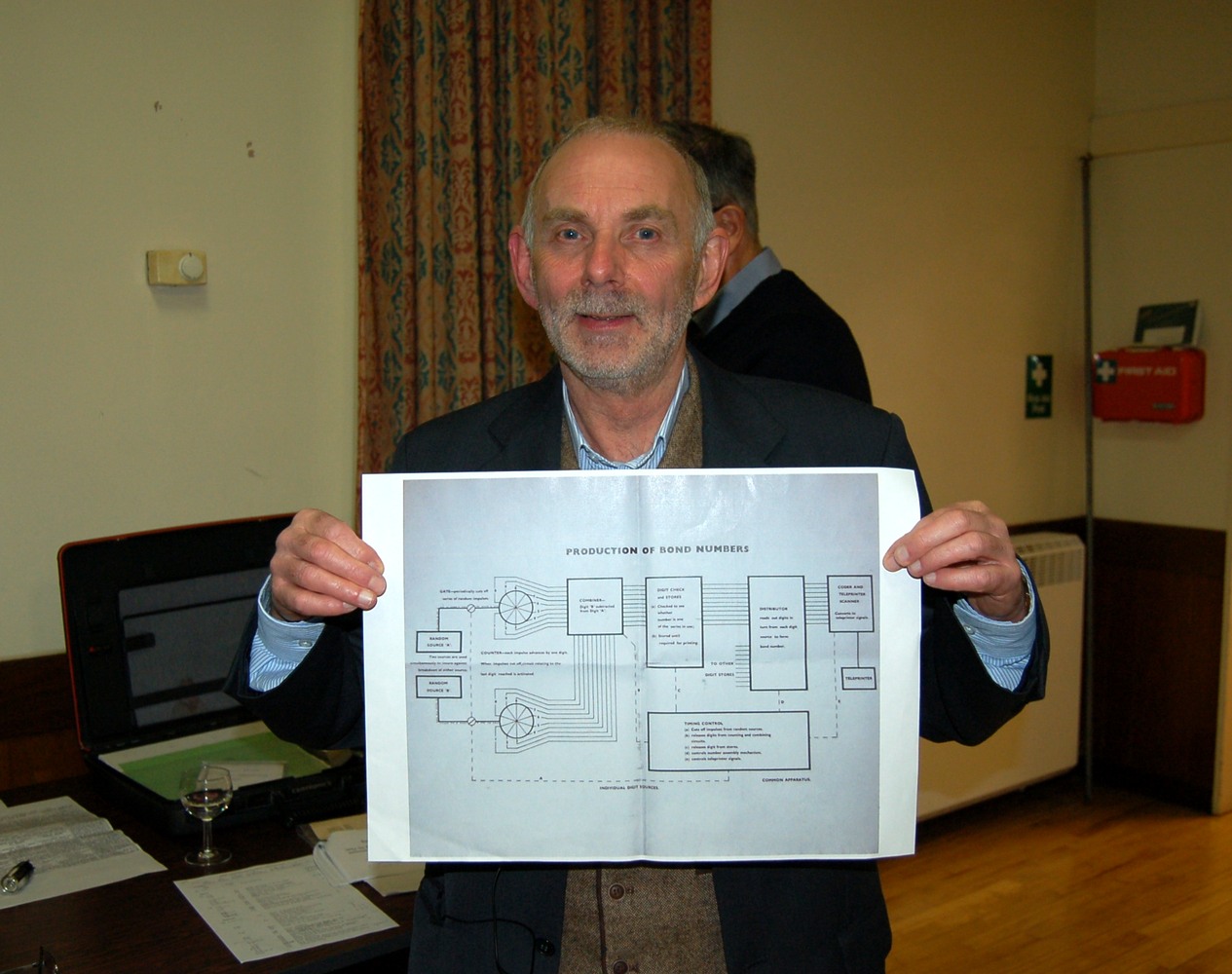 27th September 2017

The fall and rise of the country houses of Northamptonshire since 1880

Neil Lyon's very accomplished and entertaining talk outlined the many difficulties faced by landed families since the start of the agricultural depression. Houses have been lost and estates have been broken up but a surprising number survived and prospered.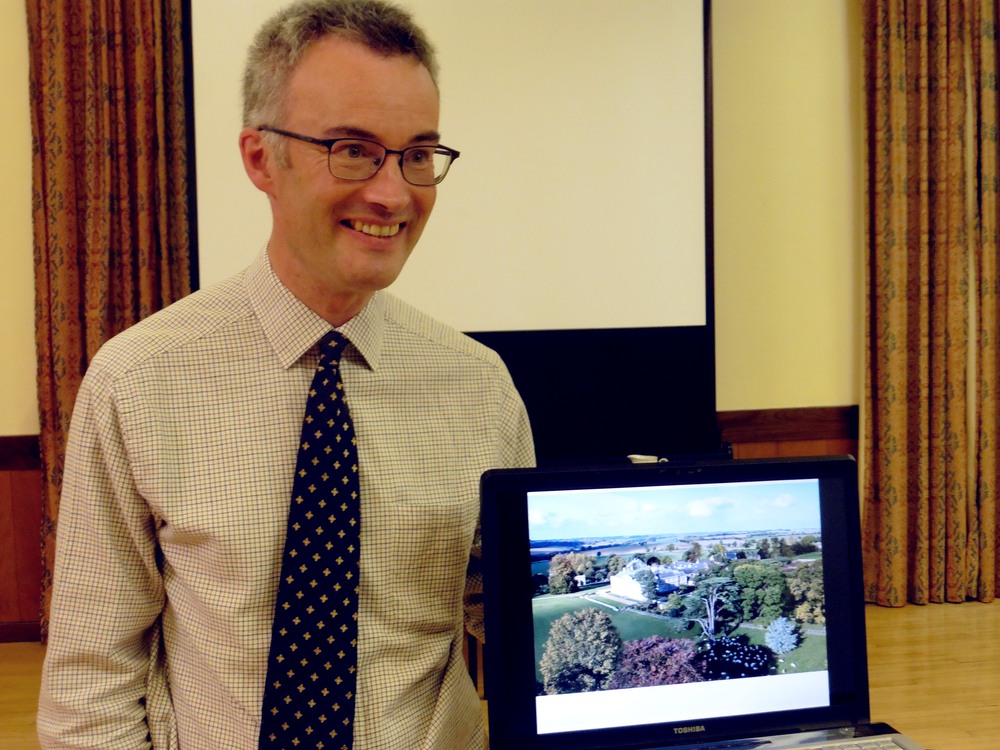 Saturday 22nd July 2017 - Roade Village Hall
Exhibition at 1st Roade Scout Group Family Fun Day

In spite of the changeable weather the exhibition was well attended and people greatly enjoyed seeing the Now and Then photographs. Some former residents had travelled long distances to see it.
Many thanks to Ron Johnson and family and everyone else who helped to re-create the photographs.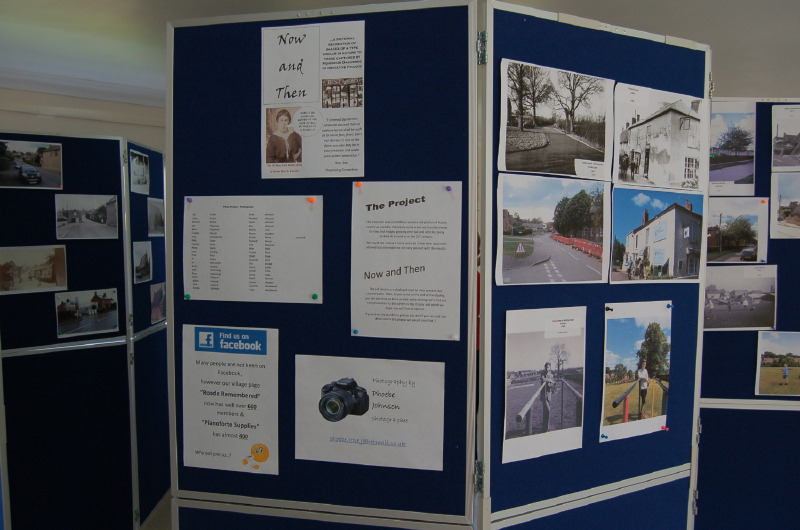 | | |
| --- | --- |
| Andy and Ron Johnson | Lucy and Sam of Roade Post Office |
The Find the Treasure competition was also well supported. The booty (£5) was won by Nigel Elliott and the second prize (chocolates) was won by Kristy Stoneman.
Many thanks to Peter Mawby, who organised the competition, and Izzy Mawby, a member of 1st Roade Scouts, who helped.

Many thanks are also due to 1st Roade Scouts for providing all the village organisations with an opportunity to meet the wider public.

1st July 2017 - Visit to the Church of St Neophytos
(formerly St Crispin's Hospital Chapel)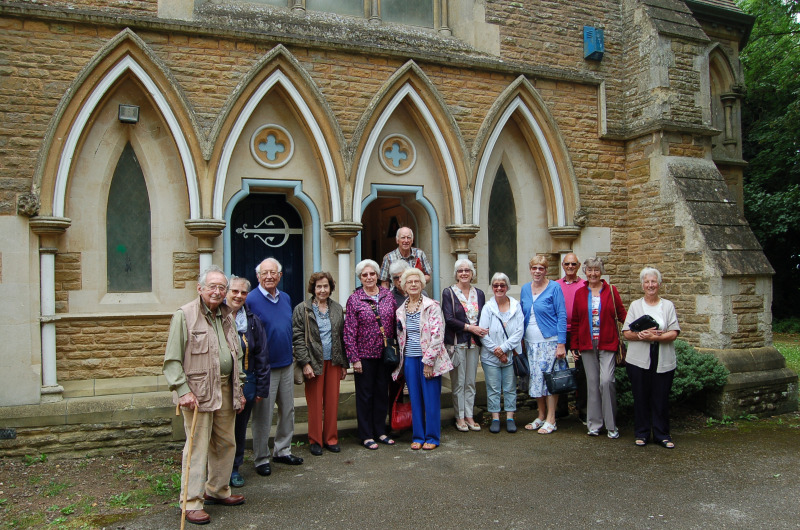 The former St Crispin's Hospital Chapel has been converted to the Greek Orthodox church of St. Neophytos, the Recluse of Cyprus. Members and guests (including four Art Group members) enjoyed a very interesting visit guided by Mario Toouli. As well as learning about the Greek Orthodox religion they saw many beautiful icons and some fantastic murals which were done by Northampton artists Henry Bird and GHB Holland in 1953 and were based on studies of various well-known local residents and members of hospital staff.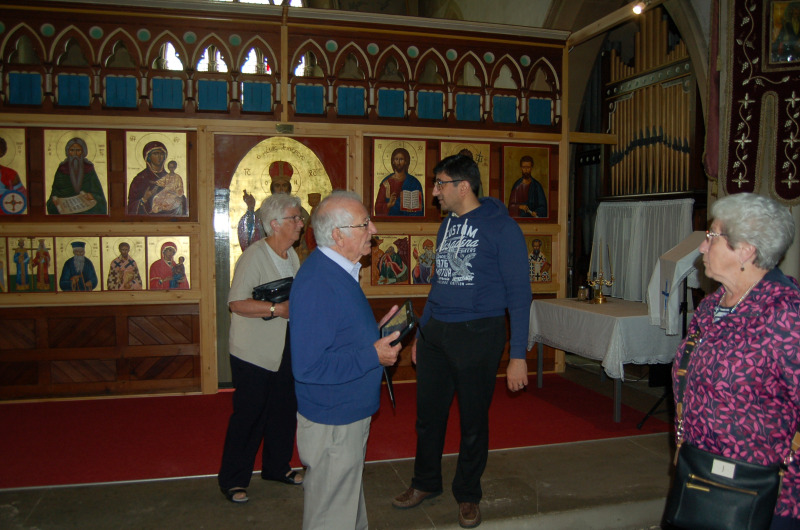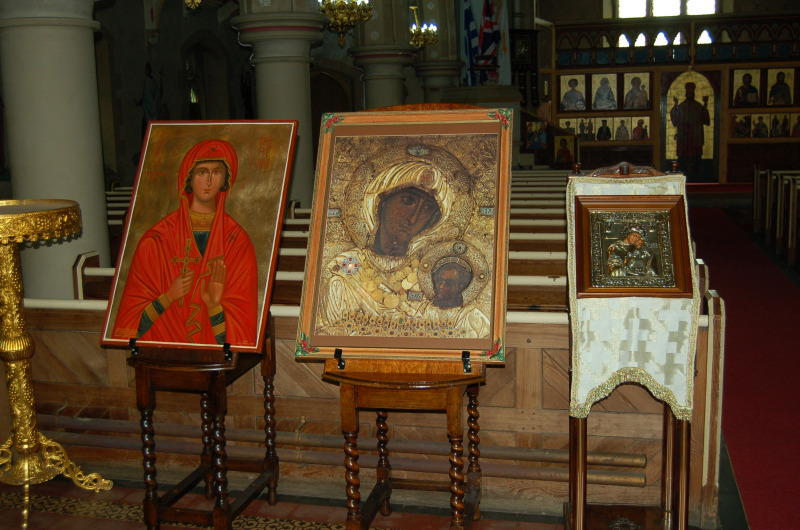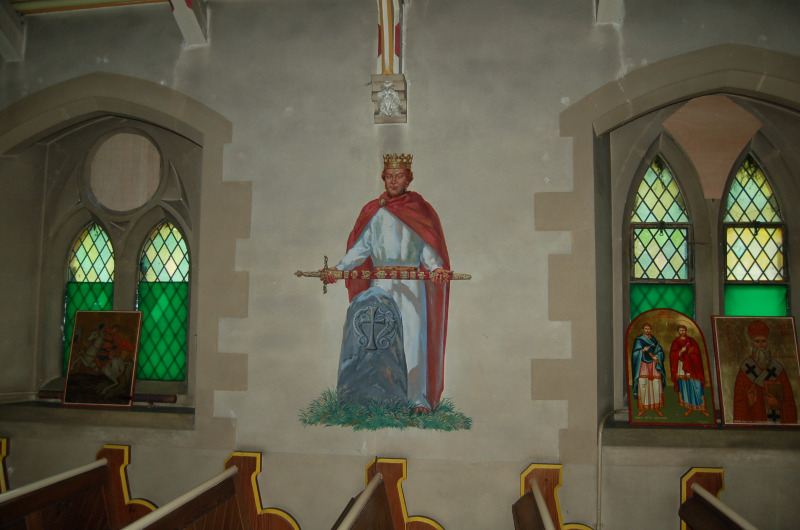 17th June 2017 - Visit to Delapré Abbey




41 members and guests enjoyed a very interesting private tour of Delapré Abbey, which was not yet open to the public. The main reception rooms have been splendidly restored and there is much fascinating information about people and events. Visitors are encouraged to handle items, sit on chairs and generally get a feel of what it would have been like to live in the house - highly recommended.

After lunch 22 people went on a delightful sunny walk round the grounds led by Peter Mawby. They saw at least 50 new-born blue damselflies, all the usual song and water birds, heron, a wagtail (not pied) and a tree creeper. One person, Terry Deane, even saw an otter, which ran out of the brush across his feet

24th May 2017 - AGM followed by
A History of Leather and the National Leather Collection


Our AGM went well and the Committee were re-elected en bloc.

The Chairman's Report included thanks to the many members and supporters who have helped us during the year: Alan Atkinson for designing our new logo, Pat Brittle and Denise Calder, who have recently restarted interviewing people for our oral history archive, Patrick Barlow and Alan Mott for their assistance with the development of a forthcoming new website and all those who help with our events. We still need help with projects and archiving our growing collection of documents and memorabilia.

We then enjoyed an excellent talk by Philip Warner, Curator of the National Leather Collection.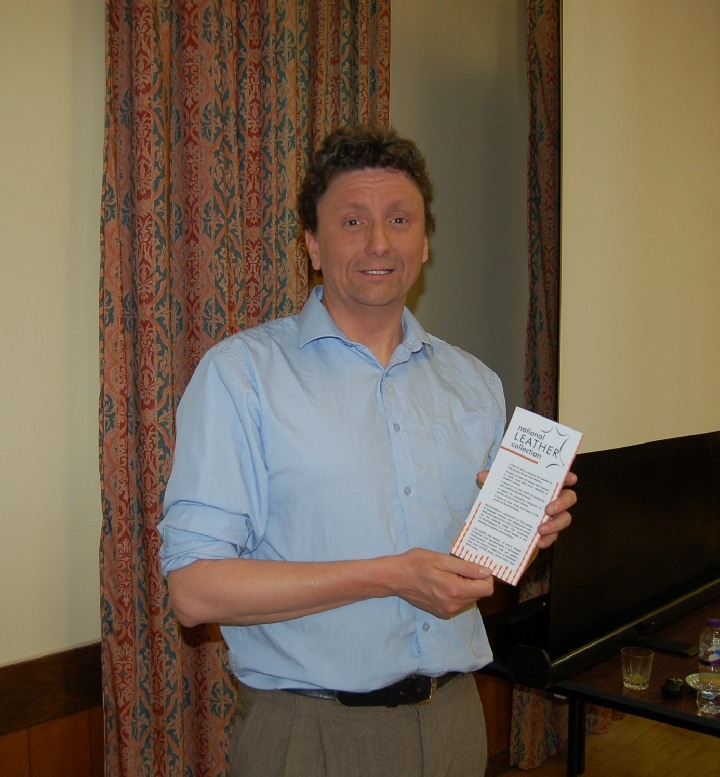 Philip is developing a museum and leather craft centre in the Grosvenor Centre, Northampton and would welcome assistance from volunteers. If you are interested in helping, please email: philip.warner@nationalleathercollection.org. Philip's talk was inspirational - lively and informative with illustrations we could all relate to. The museum promises to be fascinating and a great asset to the town and we look forward to visiting it when it opens.







26th April 2017

Victorian Gardens - ingenuity and hard work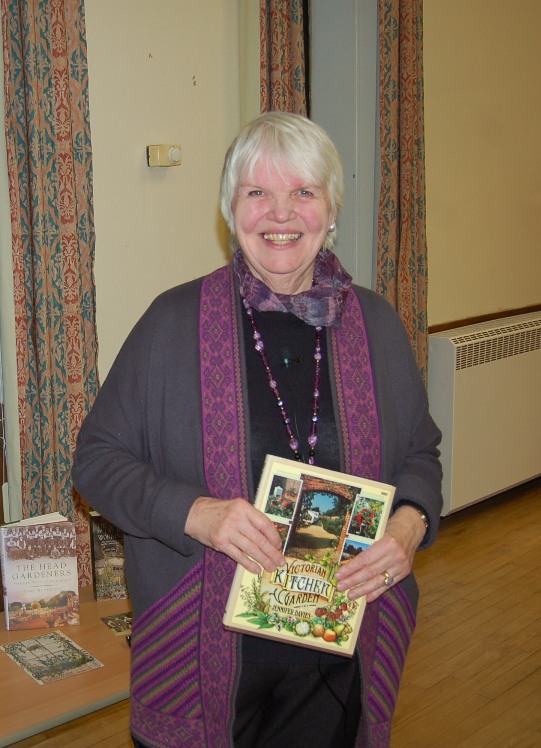 This was a very successful event shared with Roade Gardening Club. Christine Stones is an excellent speaker and her lively, entertaining and informative talk was much appreciated by a large audience. One visitor who happened to be staying in the area enjoyed it so much that he gave a generous anonymous donation towards the cost of the wine. He is a keen gardener and was impressed by the co-operation between the two groups. We have always been well supported by other village organisations and look forward to some more enjoyable shared events in the future.




22nd February 2017





The Cooper Collection: Three Generations of Northamptonshire Photographers.






Another entertaining talk by Gary Shaeffer with

many photographs of Northampton town and county.

22nd March 2017



Charles II and the Dukes of Grafton with emphasis on their Northants connections

.




A very interesting talk by Charles FitzRoy, who brought a variety of rare maps and documents.
28th January 2017 - Members' New Year Lunch
Our New Year Lunch was again held at Roade Bowls Club with excellent food provided by popular chef Martin Brown and his team. Many thanks to all who helped to make this such an enjoyable occasion. The raffle was well supported by donors and punters and helped to make the event viable. Particular thanks are due to Chris Hillyard, Marian Barber, Alastair Inglis and Sheila Fitchett for their entertaining readings and to Marian Barber, Jean Balderstone and Sylvia Mawby for the beautiful table arrangements.
| | | |
| --- | --- | --- |
| | | |
| Chris Hillyard | Martin Brown & Alastair Inglis | Chris Denton |
14th December 2016 - An evening of Christmas Cheer
Many thanks to everyone who took part in and helped at our lively Christmas event, which was very well attended and packed with displays and presentations. Excellent presentations were given by:
Stuart Shrubb re 1st Roade Scouts who have been celebrating their 60th birthday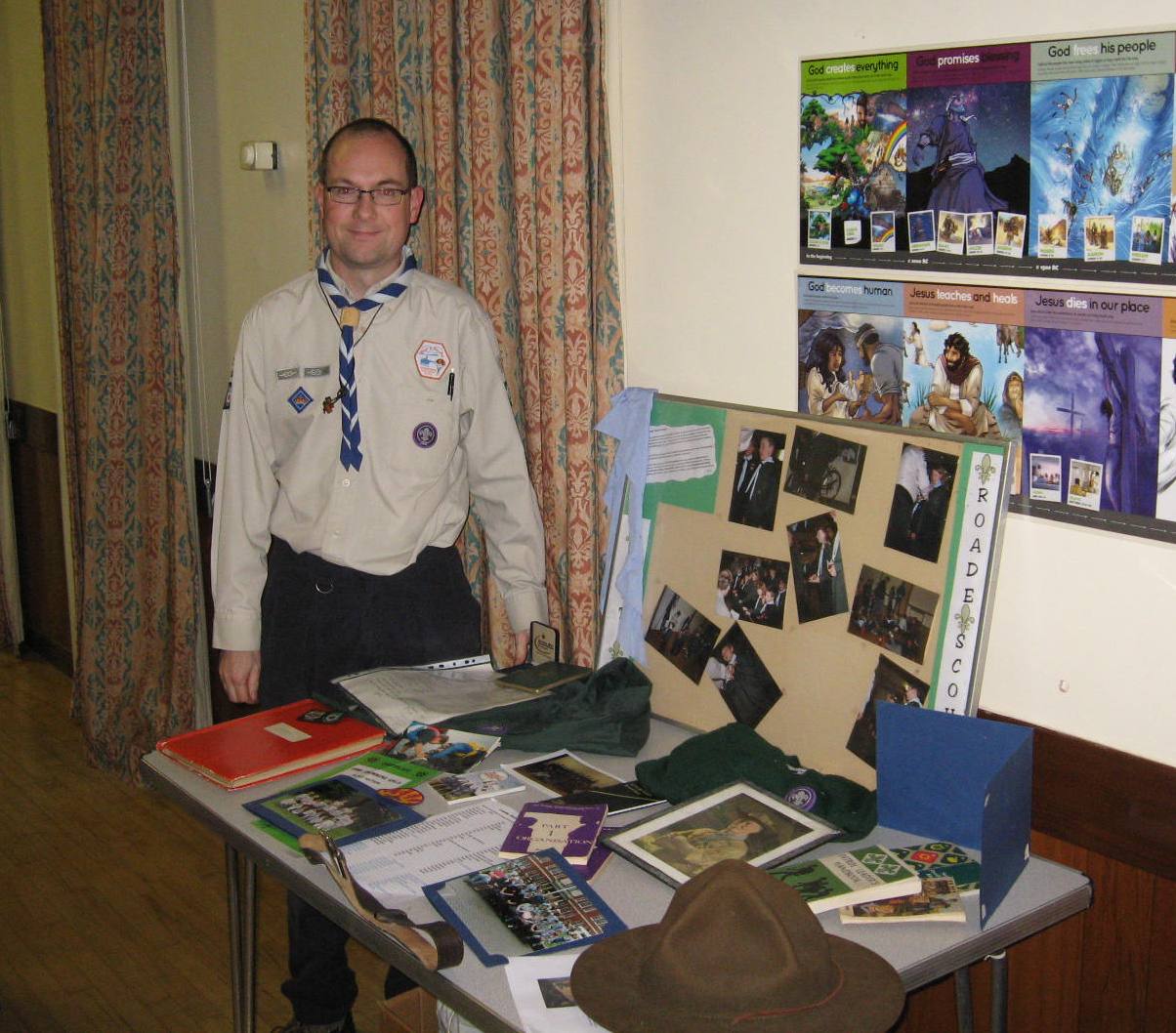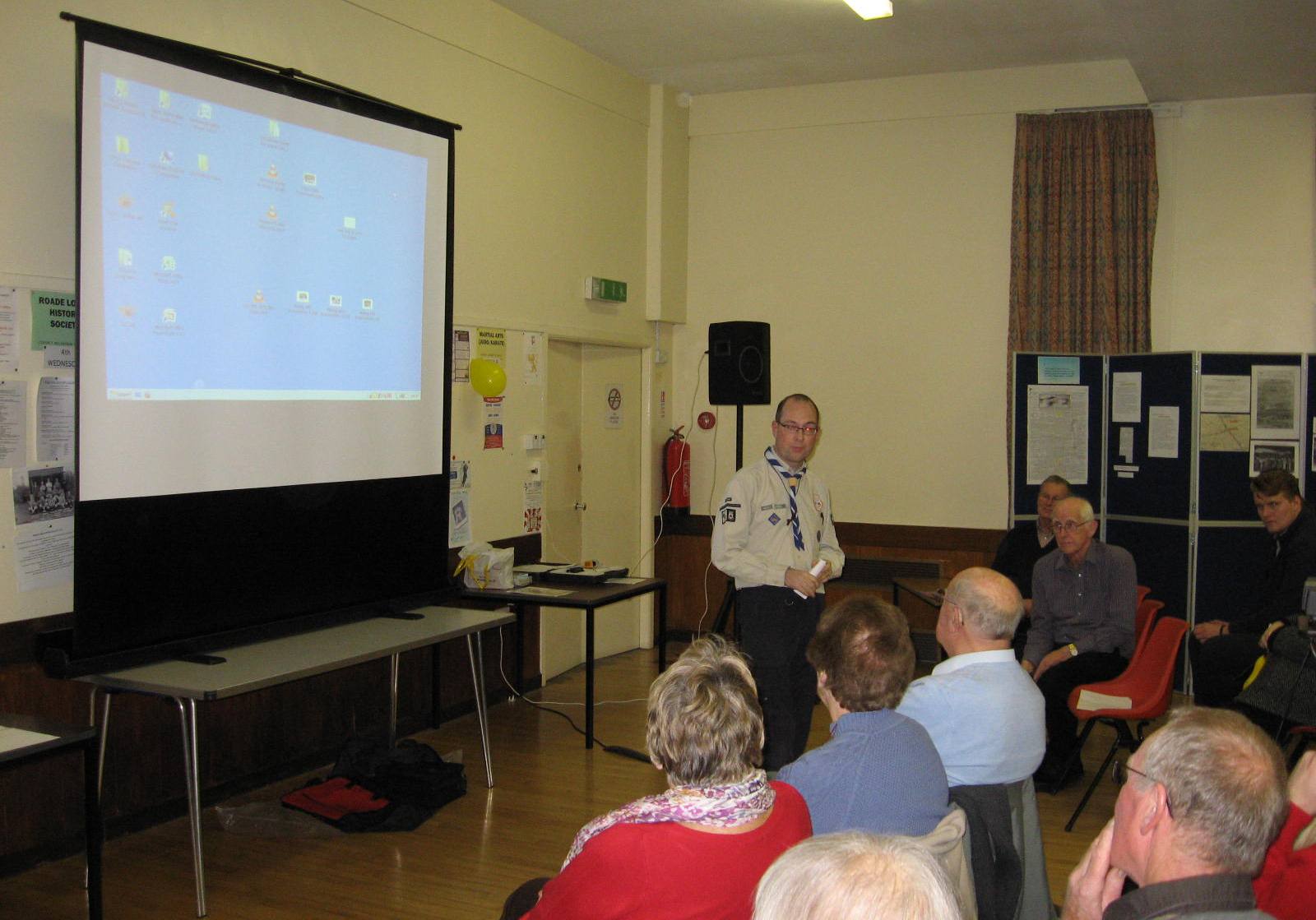 Elizabeth Dyke re Roade Secondary Modern School (now EWS Academy), which also recently celebrated its 60th anniversary, and Jay Mainprize who gave us a student's view of the school today. There was also a popular display of memorabilia kindly lent by the school.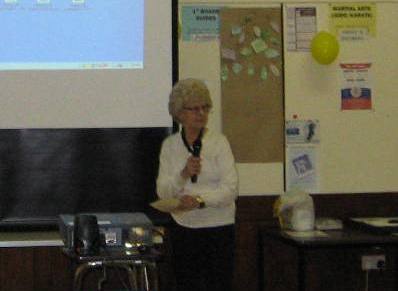 Peter Mawby re the history of Pianoforte Supplies Ltd. Lack of time prevented him from completing his talk and it will be continued at a future occasion. Peter also showed a film of the PSL site from the air by drone kindly lent by a member's son-in-law.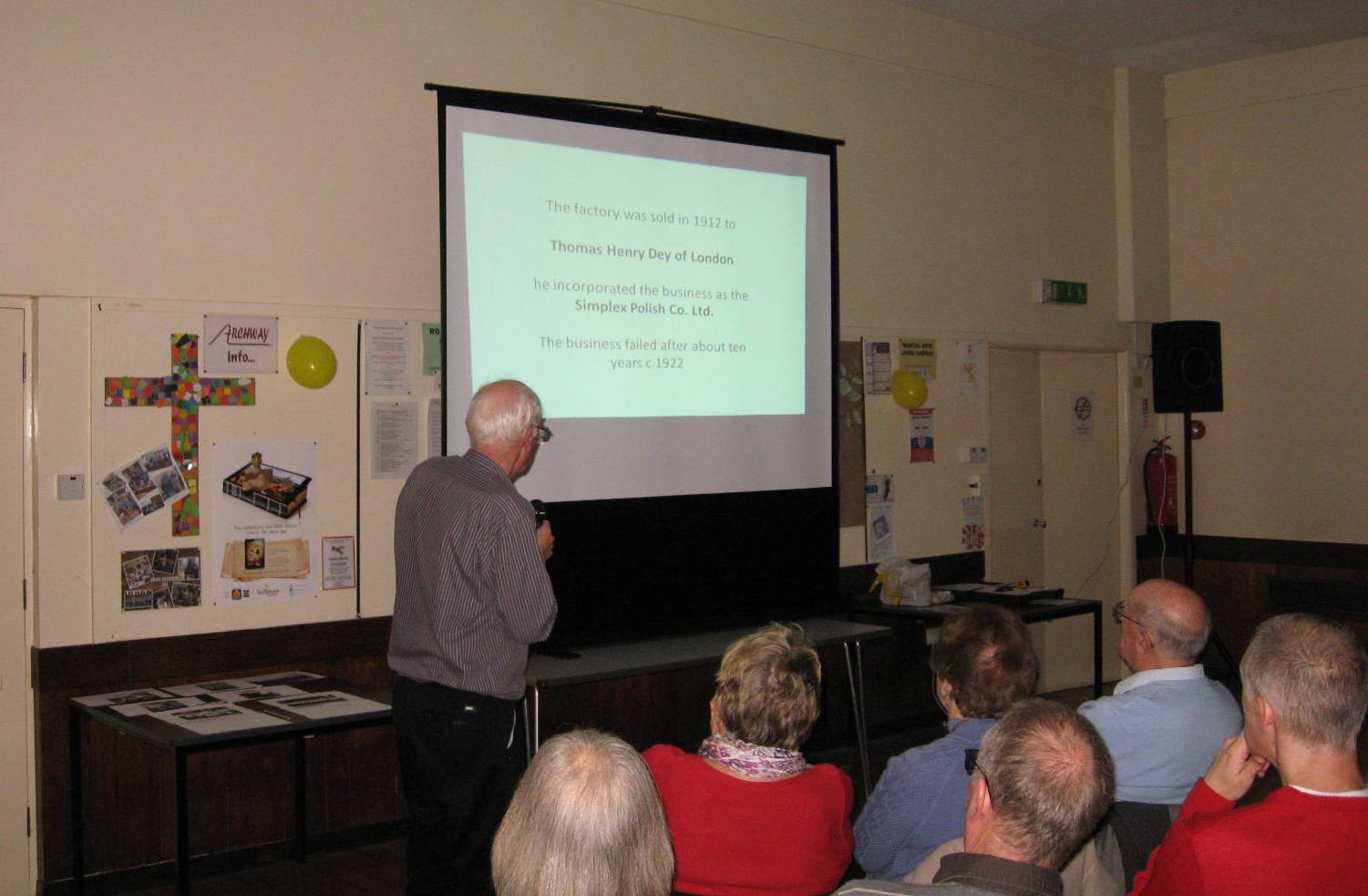 A display of PSL items recently donated to the Society.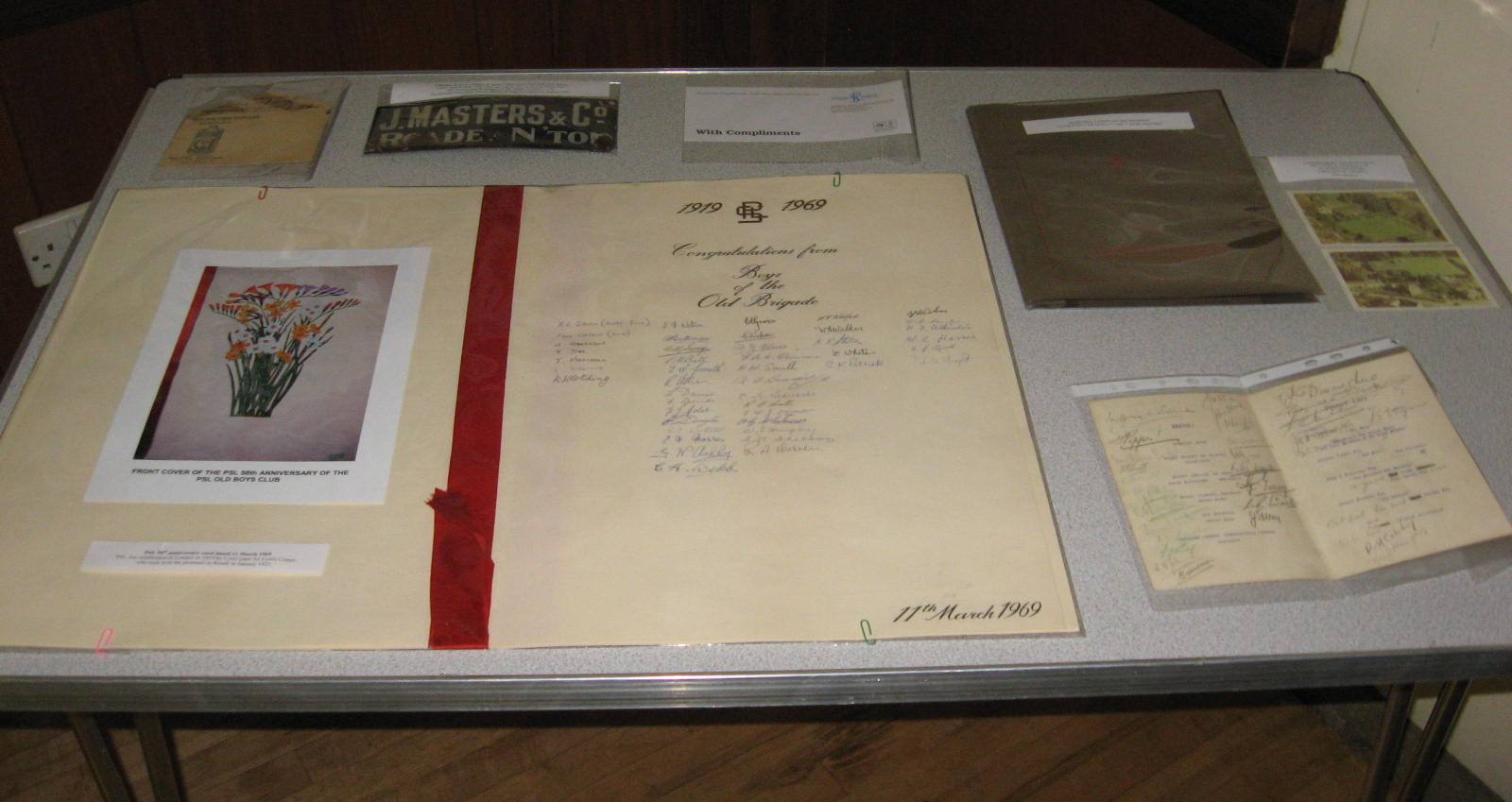 Other displays included items from the recent exhibition about Claude Grahame-White, artwork sent home by Vic Johnson during World War 2 and a replica of the AA Roade road sign that was originally located in the area of Roade Secondary School.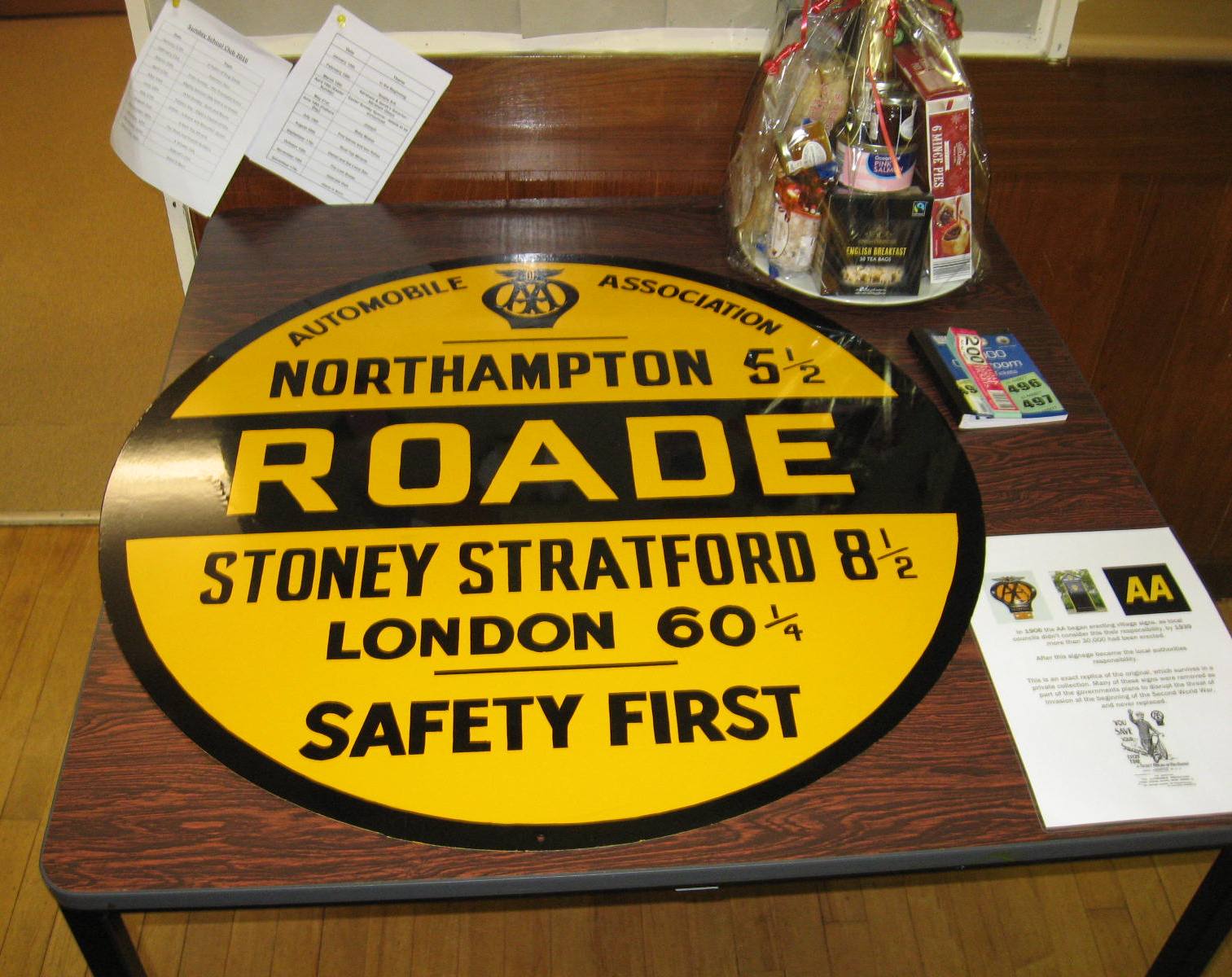 The evening finished with some very enjoyable carol singing led by members of Roade Community Choir, joined by two members of Hartwell Heart and Soul Choir and Village Technician and Jinx singer Andy Johnson- many thanks to all.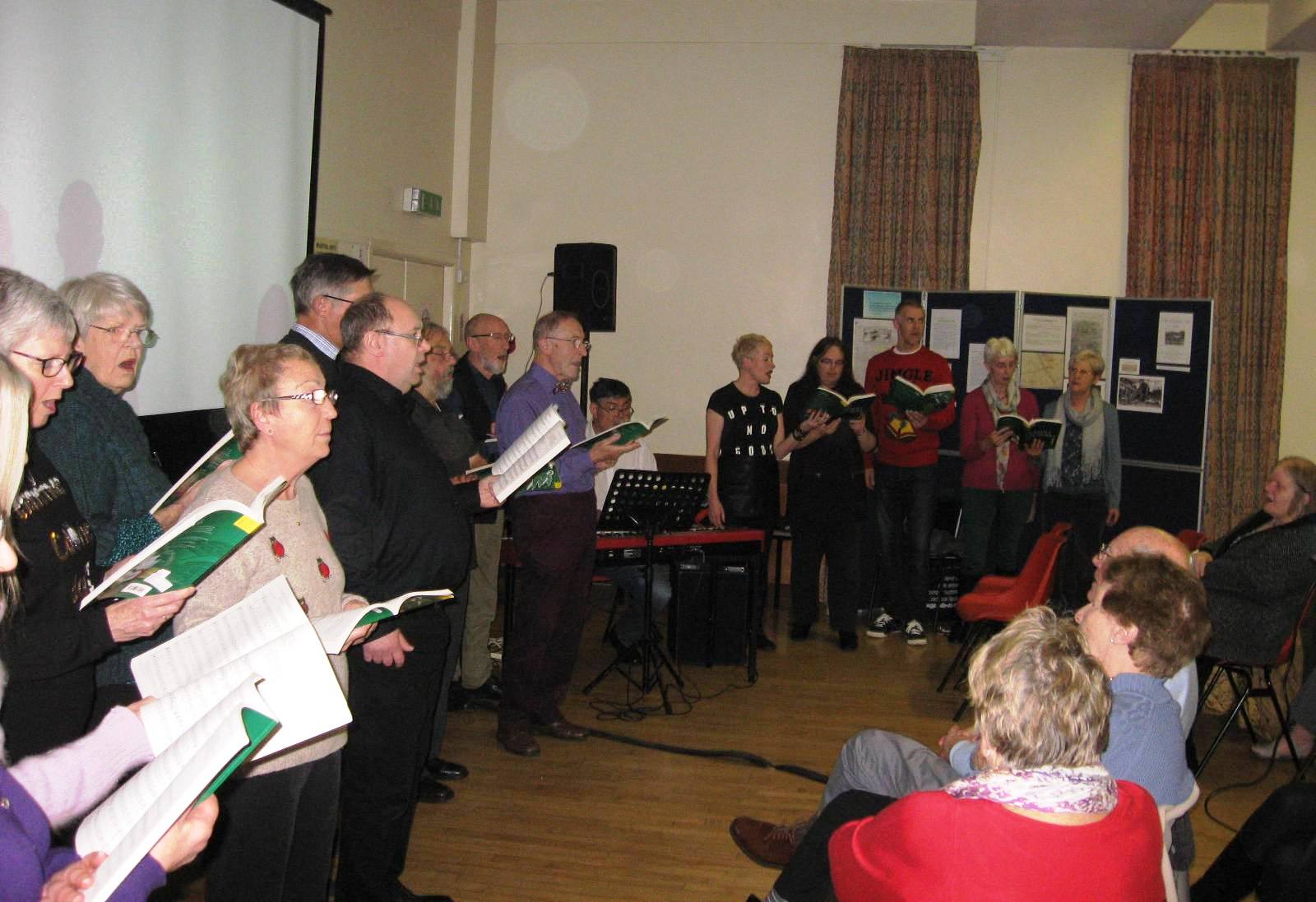 23rd November 2016 - The NHS Then and Now



There was a very good turnout for Dr Alan Sutton's talk - a personal reflection of over 40 years of 'the good, the bad and the ugly' in the NHS. He gave us an entertaining account of his training, work at Northampton General Hospital and recruitment as a Roade GP following a chance meeting with Dr Bull outside Brierleys (a fore-runner of B&M). He reflected on the many changes in the NHS during his career and commented that if you don't want to work at weekends and nights "don't become a doctor". He was warmly applauded and thanked by many appreciative ex-patients who flocked to speak to him.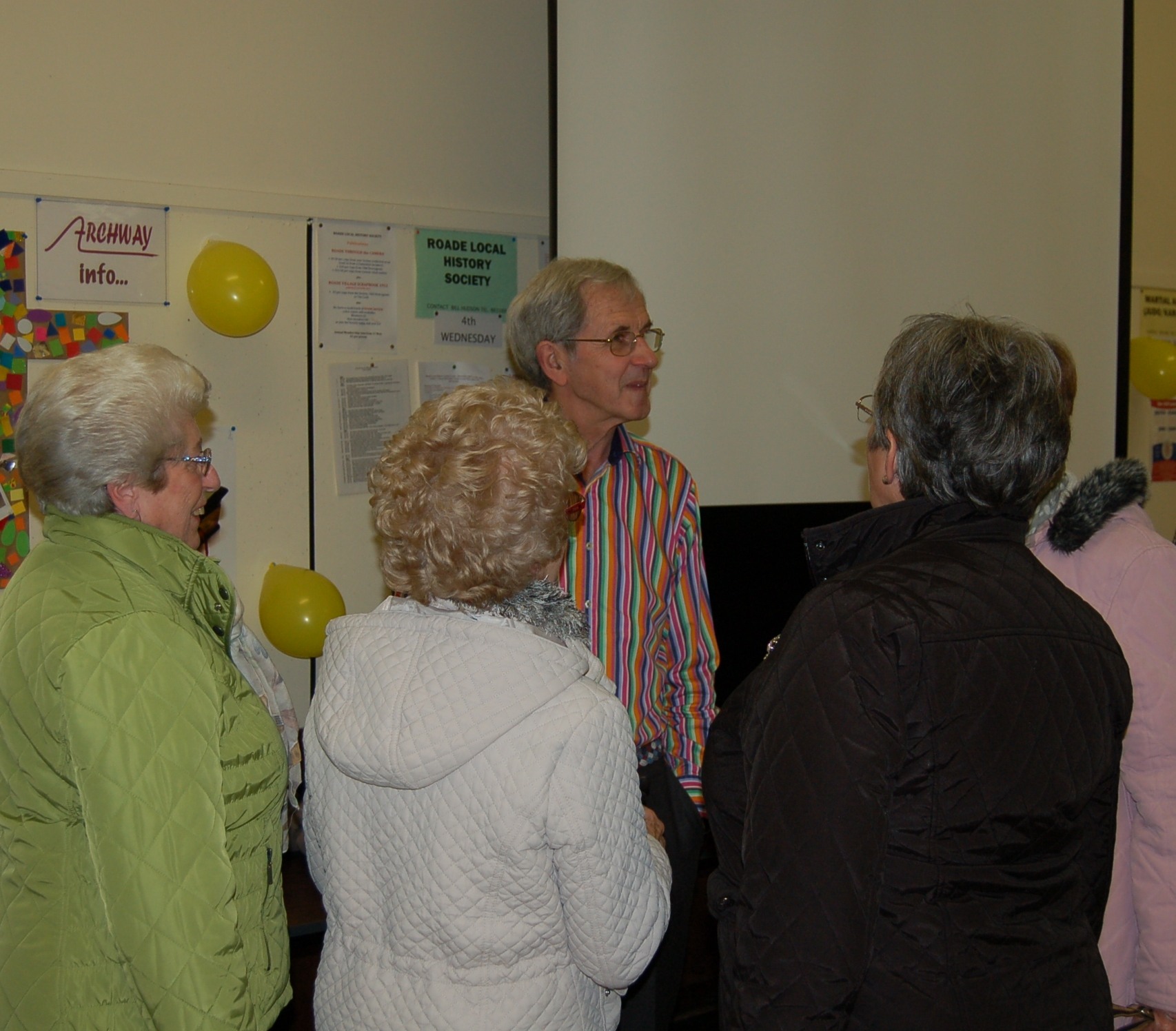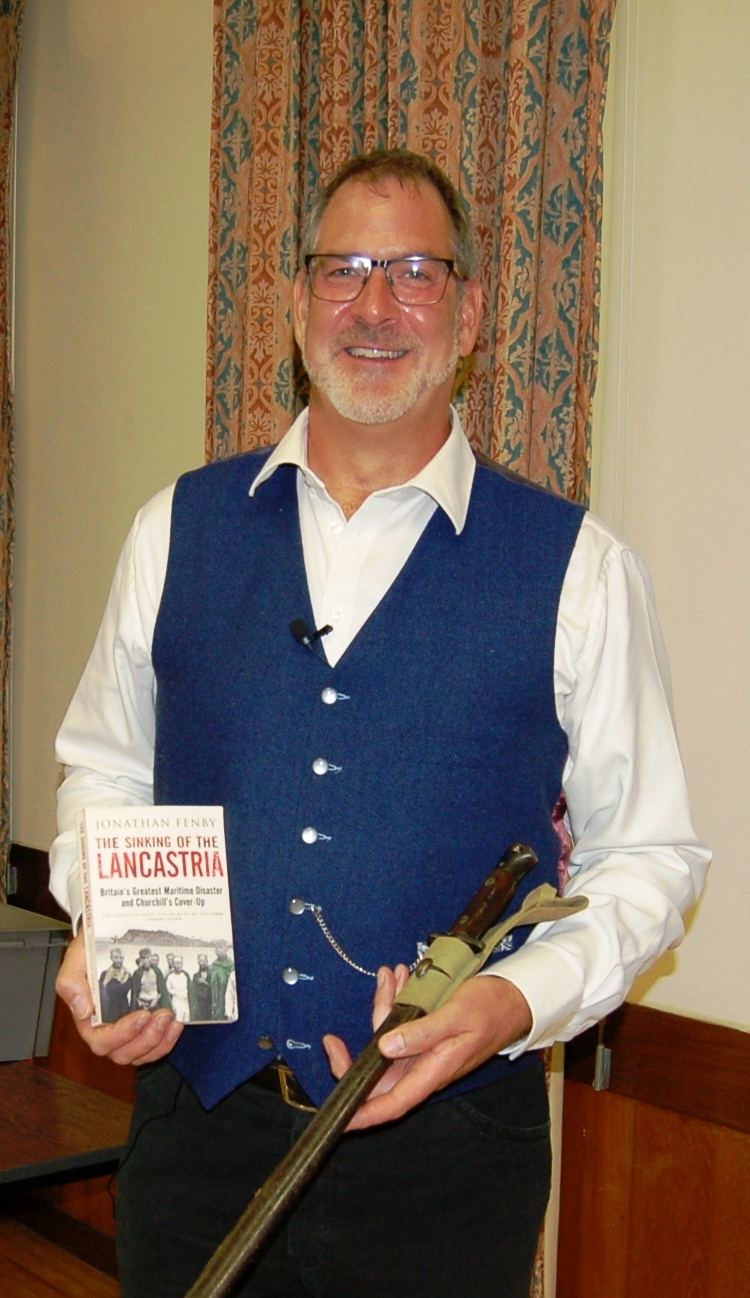 26th October 2016 - My Father's Journey Through WWII
Andy Tennet gave us an excellent and absorbing account of his father William's experiences during WWII. He was unable to reach Dunkirk and had to find his own way back to England. After witnessing the sinking of the troopship Lancastria, which he had tried to board, he returned home in a French fishing boat. Later he travelled through France, Belgium and Germany with Montgomery's staff, ending up in Berlin. William kept many interesting documents, such as Montgomery's strongly religious letters of encouragement to the troops. We also heard about William's family life and were touched by this warm tribute to a likeable man who had served his country well. No wonder his release papers recommended him as "a very useful man" who had met "in a willing spirit, all demands made upon him".

28th September 2016 - Joined at the Hippo

In September Kevin Varty gave a very entertaining talk about the lives and music of Michael Flanders and Donald Swann, who first worked together at a school revue in 1939 and gave their last performance in1967. As promised it was a gnight of gnostalgia and gnus and we all joined in the chorus of "Mud, Mud, Glorious Mud" at the end.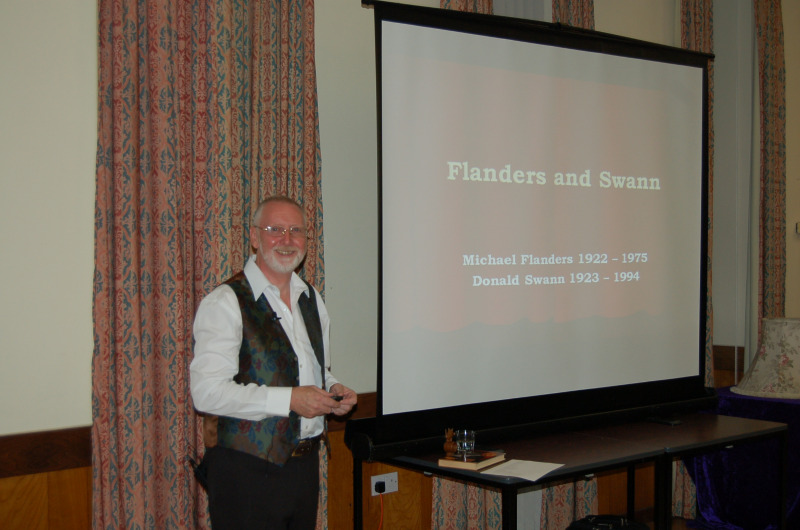 17th September 2016 - Visit to Hyde Farm House
Hyde Farm House originated as a 14th century hall house and is the oldest secular building in Roade. The Hyde estate then belonged to the Augustinian abbey of St James, Northampton, and had its own openfield system, water mill, fish ponds and dovecote.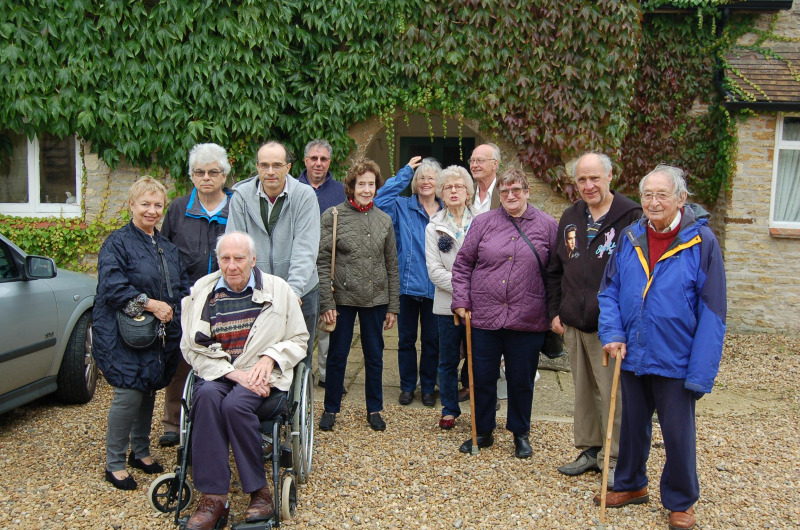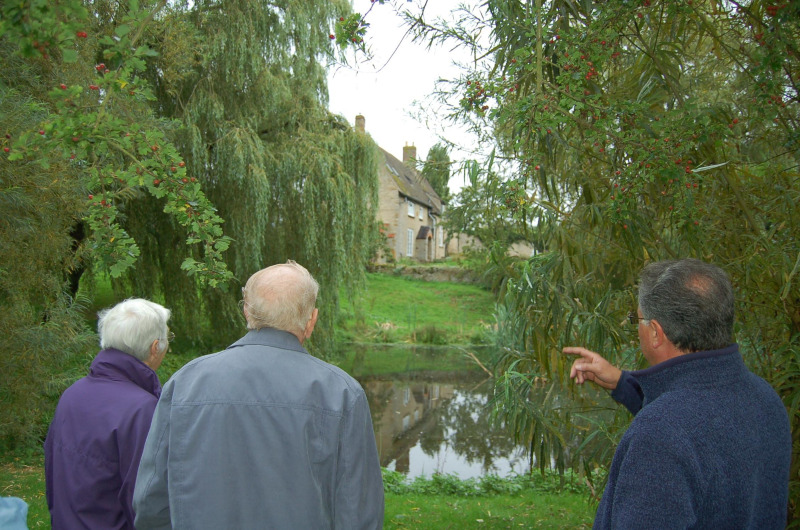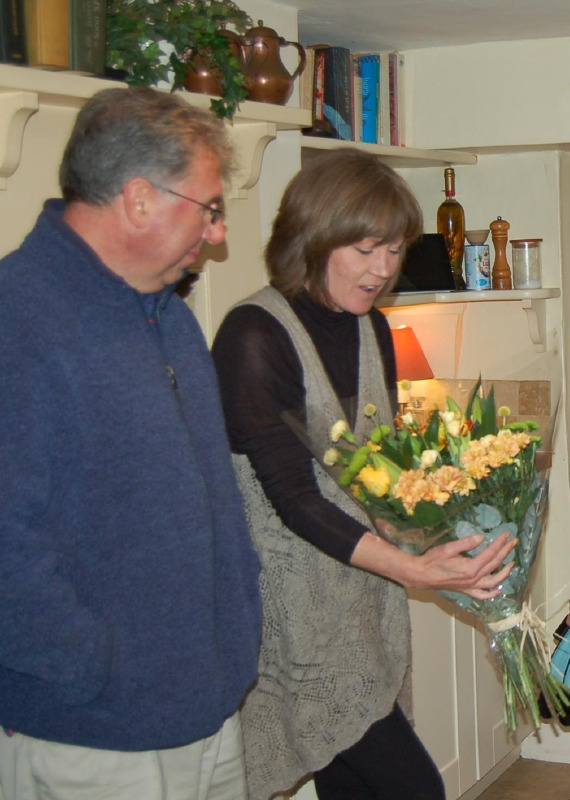 Many thanks to Mr and Mrs Nola for a delightful visit and to Mr and Mrs Stockdale for letting us see the dovecote.
23rd July 2016 - Exhibition celebrating the World's First Night Navigation Flight
(combined with Roade Scouts 60th Anniversary Celebrations and Family Fun Day)
at Roade Village Hall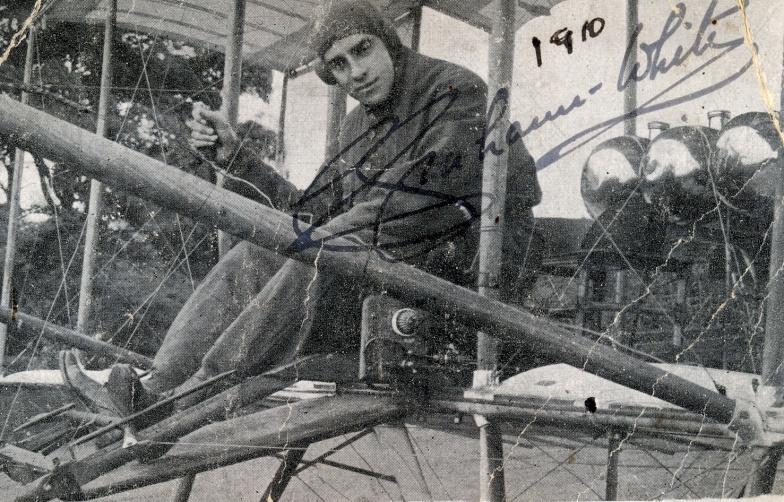 Claude Grahame-White made history when he took off from Roade early on 28th April 1910 during an air race from London to Manchester. He had landed in a field by the railway the evening before and took off at about 2.50 am with the aid of lanterns and car headlights. Crowds flocked to Roade and it was said that the pubs remained open all night.
Grahame-White was a celebrated pioneer and entrepreneur in the early days of aviation and motor vehicles. The exhibition included a rare Grahame-White car, various classic cars, a model Sopwith Camel and a display about Roade in 1910 and 1911, including information from the 1911 Census.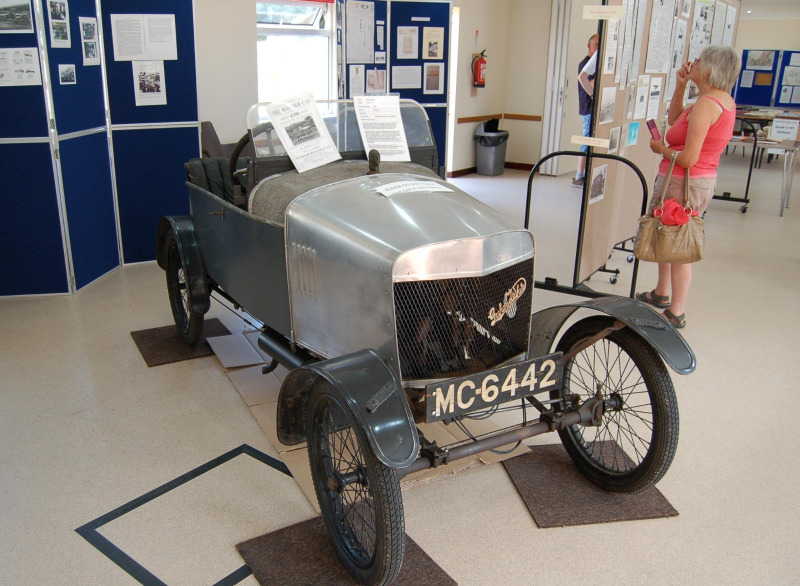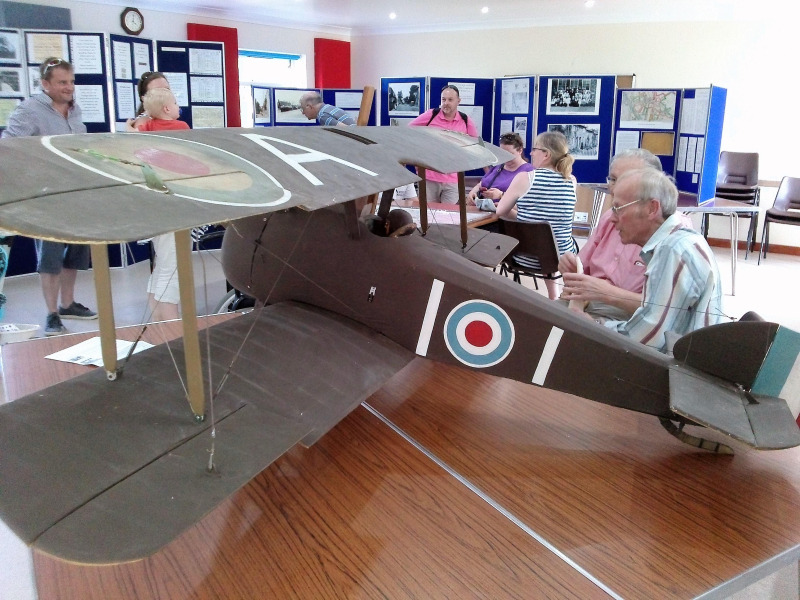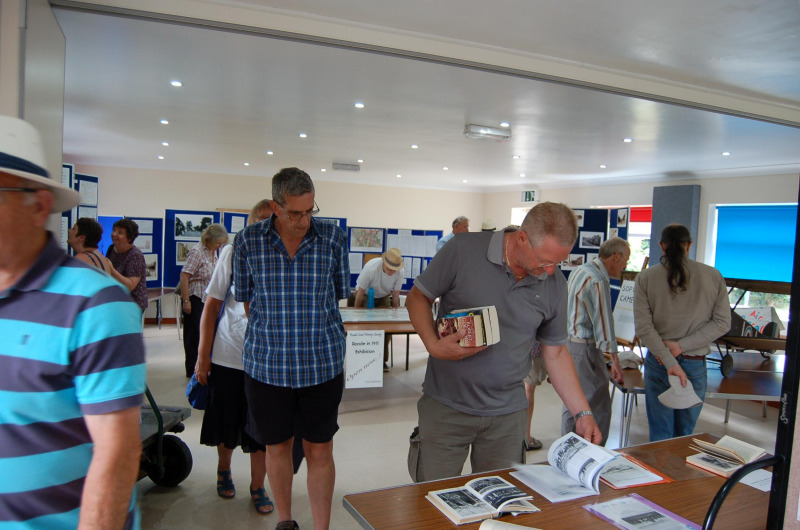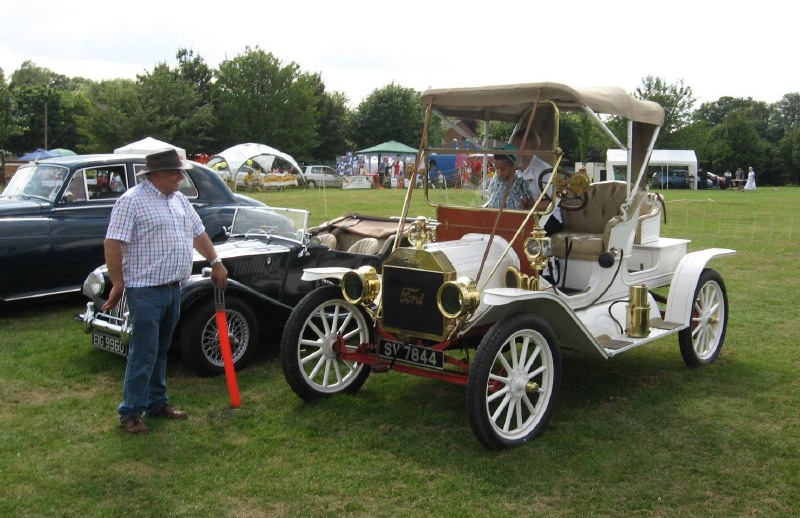 Future Events

Unless otherwise indicated, all events take place at 7.30 pm at St. Mary's Church Hall, where refreshments are available. Admission charges for talks and visits are £2 for members (annual subscription £5), £3 for adult non-members, 50p for children (up to 16) of non-members. Members' children up to 16 are admitted free.
----------------------------------------------------------------------------------------------------------------------
Royal Canadian Air Force

Roade Local History Society has installed a small memorial to commemorate six Canadian airmen who lost their lives when their Wellington bomber was struck by lightning over Roade 70 years ago.